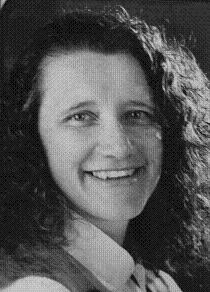 INDIVIDUAL | Inducted 1995
Yvonne Zipter has used her considerable talents to document the lives of lesbians and gay men in Chicago. A columnist in the gay and lesbian press, Zipter writes "Inside Out," which is syndicated in Outlines, In Step, Philadelphia Gay News, The Weekly News, and The Washington Blade. She is the author of an essay collection titled Ransacking the Closet, selections from which won an Illinois Arts Council finalist award. She also wrote a nonfiction retrospective of lesbian softball, "Diamonds Are a Dyke's Best Friend", and a poetry collection, "The Patience of Metal", which was runner-up for the Poetry Society of America's Melville Cane Award and was a Lambda Literary Award finalist. She has also published a collection of her columns, "Ransacking the Closet".
Zipter has contributed to dozens of anthologies and journals, ranging from Contemporary Lesbian Love Poems and The Columbia Poetry Review to "Sports Dykes", and has presented readings of her work across the country. Sites of her numerous readings in the Chicago area include Women & Children First Bookstore; Mountain Moving Coffeehouse; People Like Us Books; Diversity Fine Arts; Artemisia Gallery; Chicago Cultural Center; DIAL-A-POEM, Chicago!; Printers Row Book Fair; and Blue Rider Theater.
Born in Milwaukee, Zipter has lived in Chicago since 1981. She attended the University of Wisconsin at Milwaukee, graduating in 1976 with a Bachelor of Science degree in psychology. In July 1995, Zipter received a Master of Fine Arts degree in writing from Vermont College.
In the early 1980s, Zipter was active as a member of the Black Maria Collective, which issued a women's literary periodical; she was a board member of Metis Press, an early Chicago lesbian printing and publishing house; and she helped to found Hot Wire: A Journal of Women's Music and Culture, which for 10 years was the only publication exclusively covering the lesbian music and cultural scene. Zipter was also a cofounder of the National Women's Music Festival Writers Conference in 1984 and 1985.
Minnie Bruce Pratt has said of "The Patience of Metal": "In these poems, scars are transformed into the frets of a guitar, into the black beaks of tiny birds, into fluttering black moths. In these poems, Yvonne Zipter transforms loss. She reclaims that which has been locked inside, and gives us an inner remembered space filled with light, and vibrant with the gestures of people she has loved. A beautiful book."
Art and the written word act to focus and cohere a community around their truths. Zipter writes with a piercing eye and a keen sense of humor, describing all our peculiarities so that they are immediately recognizable and oftentimes poignant. As her columns and books are published around the country, she serves as a cultural ambassador from Chicago to the rest of the gay and lesbian world.
Zipter credits publisher Tracy Baim with providing her the opportunity to write for Outlines and is particularly grateful for the loving support of her life partner, Kathy Forde, during the past eight years. (Please note: this information has not been updated since the time of the member's induction).