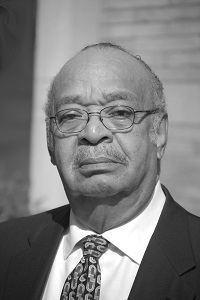 FRIEND OF THE COMMUNITY | Inducted 2014
For 18 years, Clarence N. Wood headed the Chicago Commission on Human Relations and was the longest-tenured department head during the six terms of Mayor Richard M. Daley. During that time, he was—and he remains—a steadfast ally of Chicago's LGBT community.
Much of that rapport may have come from his own family experiences. Wood has a close family member who is openly gay, and he served on the national board of Parents, Families and Friends of Lesbians and Gays. In addition, for many years he had a proprietary role at the Jeffery Pub, currently Chicago's oldest gay bar.
In LGBT Chicago, Wood is perhaps best-known for his service in protecting LGBT rights and his support for LGBT community institutions. Most notably, those institutions included the commission's former Advisory Council on Lesbian, Gay, Bisexual and Transgender Issues and the Chicago Gay and Lesbian Hall of Fame itself.
While it existed, the advisory council helped to highlight numerous important issues, and its members were always able to count on Wood to support them. His support went beyond lip service and proclamations. When the city honored LGBT veterans, Wood was present, representing the Human Relations Commission and city government generally. Behind the scenes, he always made sure that other communities represented at the commission understood why LGBT individuals deserve an equal place at the table.
One example of Wood's commitment to LGBT rights came in the summer of 2007, when he strongly supported the advisory council's protest of an appearance by reggae singer Buju Banton at an event in Washington Park. The event's promoter claimed to have Chicago Park District sponsorship, and Wood stood firmly behind the advisory council's demand that city government and the Park District dissociate themselves from the event.
During Wood's tenure, the Hall of Fame was created as the first such municipally sponsored institution in the world. In 16 years, Wood missed only one induction ceremony, and he always spoke from the heart in his remarks to those assembled. Wood stepped down from the Human Relations Commission in 2007 but continued to serve as president and CEO of the Jane Addams Hull House Association, which he had done since 2000, until his retirement in 2011.
For this history, he is inducted into the Chicago Gay and Lesbian Hall of Fame as a Friend of the Community. (Note: information listed has not been updated since the member's induction).