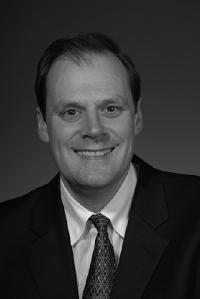 Photo by: Hal Baim/Windy City
Times
INDIVIDUAL | Inducted 2010
Mark E. Wojcik joined the faculty of The John Marshall Law School in 1992. Today, as professor of law, he is an inspiration to students "as a professor, a mentor, and as the best resource any LGBT individual in Chicago could hope for."
Wojcik, a native of Evergreen Park, graduated from Bradley University and received his initial law degree from John Marshall and a master's degree in law from New York University. While a student at John Marshall, he founded the Gay and Lesbian Law Association (GALLA), which is still in existence. After graduation, he clerked for judges on the Nebraska Supreme Court and the U.S. Court of International Trade.
In 1997, Wojcik founded the Chicago Bar Association's Committee on Legal Rights of Lesbians and Gay Men, for which he served as chair and vice chair. The committee provides unprecedented opportunities for open discussion of issues faced by gay and lesbian lawyers as well as their clients and constituents. He has also served as a board member and president of the Lesbian and Gay Bar Association of Chicago.
In 2004, the Northern Illinois University Law Review published his article, "The Wedding Bells Heard Around the World: Years from Now, Will We Wonder Why We Worried About Same-Sex Marriage?" just before Massachusetts made marriage equity a reality for same-sex couples. He was co-author of the first legal casebook on AIDS law and has published a number of articles on legal issues affecting LGBT communities, including HIV status, immigration, relationship matters, AIDS and funeral directors, and other legal questions of marriage equity.
Wojcik has also been active in promoting legislative change at the state and federal level, including help in advancing the sexual-orientation amendment to the Illinois Human Rights Act, lobbying for civil unions and marriage equity, and advocating for repeal of the military's "Don't Ask, Don't Tell" policy.
Mark Wojcik's students offer perhaps the best testimony to his efforts on behalf of LGBT communities when they aver that, as one of them says, he "was right there with us, encouraging and motivating us to learn more about the difficult legal situations faced by many in our community."
(Note: information listed has not been updated since the member's induction).