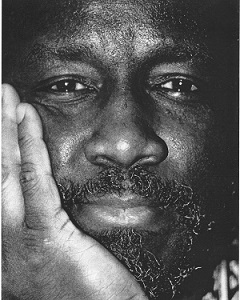 INDIVIDUAL | Inducted 2014 [Posthumous]
Bennet Williams was an HIV/AIDS advocate and activist whose life had an impact on many Chicagoans. Diagnosed as HIV-positive in 1983, he was a long-term survivor who worked tirelessly to ensure that persons living with HIV/AIDS , particularly African American gay men and persons living on Chicago's West Side, had access to information, resources, and health care.
Williams challenged communities to become involved in the process just as he did, whether it was serving on HIV/AIDS planning councils, lobbying health departments and health-care providers, or speaking to community groups and churches as an out African American gay man living with AIDS.
Williams held administrative positions at the Chicago Child Care Society and with the YMCA. From 1993 to 2001, he was a member of the Chicago Black Lesbians and Gays steering committee. He served on the Test Positive Aware Network board of directors and as vice president from 1995 to 1997. He co-founded Brothers United in Support (BUS) in 1995, which he also served as facilitator and president. He founded the WHARP (Westside HIV/AIDS Regional Planning) Council. He served on the Chicago Eligible Metropolitan Area planning council for Ryan White CARE Act funding and on the Ruth M. Rothstein CORE Center's Community Action Committee, and he was involved with the people-of-color campaign for equitable funding by AIDS Walk Chicago.
His advocacy included meetings with Chicago Department of Public Health commissioners, participation in the department's Faces of AIDS campaign, participation in Bud Billiken and African Liberation Day parade activities, and lobbying in Washington as part of AIDS Watch, seeking improved HIV/AIDS resources.
In 2000, he received an award for his advocacy from Chicago's Pathfinders Prevention Education Fund. The group later named an award for him that has been presented to others.
Born on December 24, 1947, Williams moved as a child to Greenwood, Mississippi. Contemplating priesthood, he attended St. Bonaventure Preparatory High School in Sturtevant, Wisconsin, and later joined the Franciscan friary in Burlington, Wisconsin, during which time he changed his name from his birth name of Anthony Jerome Rolling. After two years at the University of Wisconsin–Parkside, he left the monastery and embarked on his social-service career. He died in Chicago on December 30, 2001, at age 54.