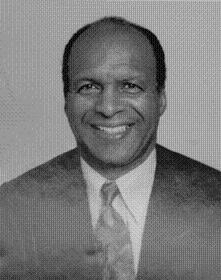 FRIEND OF THE COMMUNITY | Inducted 1999
This "Friend of the Community" is a longtime Chicago political figure and African American community leader whose support for lesbian and gay rights is part of supporting equal rights for all. In 1974, Jesse White became a state legislator and backed bills against sexual-orientation discrimination and hate crimes. He continued to uphold sexual-minority rights as Cook County recorder of deeds and now does so as Illinois secretary of state.
A longtime resident of Chicago's Cabrini-Green neighborhood, he has been a loyal supporter of lesbian and gay rights. He was an early fixture on the civil rights scene, working with the Rev. Dr. Martin Luther King, Jr., in Montgomery, Alabama. He has continued his advocacy through today with ongoing support of equal rights for all.
Born in Alton, Illinois, White received a B.S. degree from Alabama State College (now Alabama State University), was an Army paratrooper in the 101st Airborne Division, played professional baseball with the Chicago Cubs organization, and had a 33-year career as an educator and administrator in the Chicago Public Schools. He is the founder of the internationally known Jesse White Tumblers, which in 1999 celebrated 40 years as a positive alternative for at-risk youths.
In 1974, White was elected to the Illinois House of Representatives, serving perhaps the most culturally, ethnically, and racially diverse district in Illinois. Beginning in his first term and during every term he served, he sponsored and supported bills to amend state law so as to prohibit sexual-orientation discrimination. White says that he sponsored the bills "long before the issue was popular." During his 16-year House tenure, he also sponsored the HIV Confidentiality Act and consistently backed hate crimes legislation that includes sexual orientation as a category for classifying and tracking crimes.
In 1992, he was elected Cook County recorder of deeds, heading the nation's second-largest such office. He supported the Cook County Human Rights Ordinance and domestic partnership. He also used his connections in the House of Representatives to lobby for passage of an amendment to the state Human Rights Act to prohibit sexual-orientation discrimination.
In 1998, White was elected Illinois Secretary of State, becoming the first African American to hold that office in Illinois. During his campaign, he was the target of anti-gay and racist smear attacks. He was the first signer of a historic 1999 letter that eventually was signed by all the state's constitutional officers, urging legislators to vote for House Bill 474, the proposed Human Rights Act amendment.
During the 1999 legislative session, his first as a constitutional officer, he personally called legislators to support the bill. He met with them on the floor of the House and conferred with House Speaker Michael Madigan. White pledged personal and office resources to ensure the bill's passage, and he promised to continue work toward making Illinois discrimination-free for all its people. (Please note: this information has not been updated since the time of the member's induction).