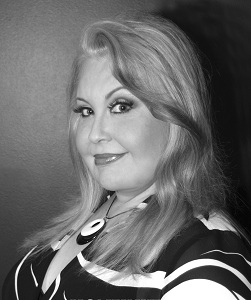 INDIVIDUAL | Inducted 2012
Entertainer Honey West, has been a hit on the cabaret circuit since her debut in the 1990 one-woman show, "A Taste of Honey". She has won two After Dark Awards as Chicago's Outstanding Cabaret Entertainer as well as several other honors and accolades.
Her charm and versatility as a singer and comedian have attracted a wide and loyal following in Chicago and beyond. She has performed on cruise ships, at awards shows, for dozens of AIDS and LGBT fundraisers, and in numerous concert and cabaret venues from the Park West to Cabaret Metro, and from Gentry to Hotel Allegro. In 1997 she released the CD "Take Honey West Home" and seven years later released a second collection, "My Big Fat Cheesy Lounge Act".
Among her many gigs, West was seen on "Oprah" backing up Cyndi Lauper and was crowned Ms. Morton Downey Jr. by a panel of celebrity judges on Downey's talk show. She even performed for Julie Andrews and the company of "Victor/Victoria" at their gala opening-night party. West starred opposite her dear friend Alexandra Billings in the comedy Vampire Lesbians of Sodom and has been featured in dozens of stage productions such as "Tony N' Tina's Wedding", "Pussy on the House", "Diva Diaries, The Musical", "Music Kills a Memory", "The Wizard of A.I.D.S.", "Sexy Baby", "Applause", and "Jerry's Girls". West also performed as Don Auxier in "Dirty Dreams of a Clean-Cut Kid", one of the first musicals to address the AIDS epidemic.
She has appeared in the film "Velvets", which was shown at the Chicago Lesbian & Gay International Film Festival, and recorded the love theme for the Judy Tenuta film "Butch Camp". In addition, West hosted and was a part of special programming for Amberg Communications and LesBiGay Radio for six years. The popular entertainer has been profiled in the Chicago Tribune, Chicago Sun-Times, Poz, Daily Herald, Boston Herald, New York Native, Chicago's Reader, and other periodicals worldwide.
Throughout her long career, West has worked tirelessly to break down walls and to dispel myths and misconceptions about trans performers. She has enriched the Chicago cabaret, stage, and entertainment worlds and has used her talents to give back to LGBT communities. As co-star Alexandra Billings said, "Honey's never said no to an AIDS benefit and never said no to a charity. She's always been there, free of charge and giving in her spirit and her time." (Note: information listed has not been updated since the member's induction).