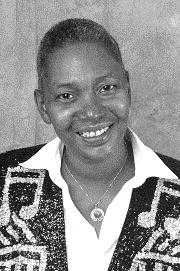 INDIVIDUAL | Inducted 2003
Known as DJ Sheron, Denise Webb has been "playing music to suit any occasion" for more than 30 years. Her disc jockey career began modestly when her friends would offer to pay her to come to their houses to play their records on their stereos. She noticed that she had a natural gift and began investing in hew own music library. To date, and several thousand recordings later, Webb's library of music spans from Motown to classical.
In the late 1970's, when there were no exclusively black lesbian bars on the South Side, the House of Fun opened and hired DJ Sheron. She played there until 1984. During that time, her contributions began to expand from simply playing music to paving the way for African American lesbians to gather freely and safely. Co-founding Executive Sweet in 1980, Webb and her associates hosted a social event at Wells Street's Courtyard Inn that was attended by more than 150 women.
During the 1970's and 1980's, DJ Sheron Webb provided music at such nightclubs as the Ebony Room, Power Plant, Sheba Lounge, Club Victoria, Broadway Limited, and the Warehouse, where she shared the turntable with Grammy Award-winning, Hall of Fame inductee, Frankie Knuckles. As the decade was about to end, she played for Chicago's first black lesbian International Women's Day dance in 1989. She has also played at such clubs as StarGaze, Excalibur, and Club Escape.
In addition to nightclub appearances, she has hosted a Lake Michigan boat cruise and has been affiliated with Karen R. Phillip's Sexy "K" Party Productions Inc. Besides commercial venues, Webb has performed for organizations such as the Literary Exchange, the Sapphos, and Affinity; at a Take Back the Night rally on Daley Plaza; and at Pride Month events. In addition, a one-year sojourn in Omaha during the 1980's has led to continuing social contacts between lesbians there and in Chicago. (Please note: this information has not been updated since the time of the member's induction).