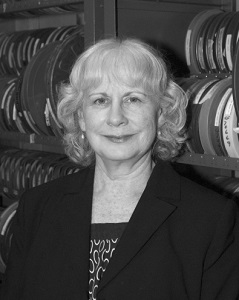 FRIEND OF THE COMMUNITY | Inducted 2013
Brenda Webb, executive director of Chicago Filmmakers organized Reeling, the Chicago LGBT international film festival, said to be the world's second-oldest such festival, it has become a major cultural event for Chicago's LGBT community and the city's general arts and culture scene. It is the second such festival in the world and has become a major cultural event for Chicago's sexual-minority communities ever since.
Under Webb's leadership for 32 years, Reeling: The Chicago LGBT International Film Festival has provided a unique opportunity for the celebration of the identities of communities that too often are ignored or misrepresented in mainstream film and television. The works shown also help to enlighten the general public about the realities of their neighbors' lives, as many of the cultural and social-justice issues of the day are revealed through film. The climate for successful crossover films such as "Philadelphia", "Brokeback Mountain", "Milk", and "Behind the Candelabra" has resulted partly from the work of pioneers such as Webb who have helped to create a market for films with LGBT content.
Every year, Webb works tirelessly to produce the festival, sourcing independent and necessary voices to showcase their films and videos, hosting VIPs and special guests, and networking with local business owners and community groups to provide venues, catering, and mutual support. She has been known to stay up all night baking food for volunteers and festival-goers, and she has countless stories to share about encouraging relationships between media makers. She has inspired hundreds of young sexual-minority filmmakers in Chicago and beyond to tell their stories through film.
There would have been no Chicago LBGT film festival without Webb's dedication, hard work, and perseverance. In 2012, she risked being terminated as she resisted her own board of directors' proposal to put the festival on hiatus, which for a year was done. She spent the year fundraising, restructuring, and reinvigorating the festival and community involvement. She launched a Reeling Advisory Committee, brought four LGBT representatives onto the Chicago Filmmakers board, and created networking events specifically for sexual-minority filmmakers.
As Reeling relaunches this year, Webb continues to uphold its mission and see it through as a nurturing and inspiring space for the LGBT artistic community. For her three decades of ceaseless commitment, the Chicago Gay and Lesbian Hall of Fame has selected her as a "Friend of the Community." (Note: information listed has not been updated since the member's induction).