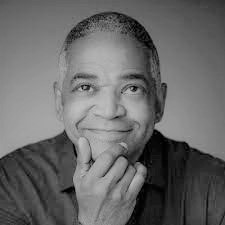 Individual | Inducted 2021
Wayne Johnson has worn many hats over the years, defining himself as a special event jockey, habitat craftsman, metro chef, and urban explorer. Wayne spent 20 years at the Leo Burnett Advertising agency in Chicago creating national campaigns for clients that included McDonald's, Procter & Gamble, and Wilson Sporting Goods. He completed his career at that agency as VP of Development for the creative department. During his tenure at Leo Burnett, Wayne was also working double-duty doing advertising, marketing, and general operations for Roscoe's Tavern after hours and on weekends. For three years during that period, he also served as assistant general manager. He continues to work in the background for Roscoe's on special graphic design projects.
As the winner of the Today Show's national "Domestic Diva" contest and a 10-year contributor for NBC5 Chicago, Wayne has put his varied talents to good use. His weekly "Wayne's Weekend" segments on NBC 5 covered everything from cooking and party planning to home decor, crafts, new things happening in the city, and more. Since his stint at NBC 5, Wayne has appeared on Good Morning America and Windy City Live, sharing more of his food and lifestyle ideas. He also maintains a YouTube channel and a website featuring his recipes, projects, and travels.
Because of his love for Chicago and architecture, Wayne has been an interpreter for The Frank Lloyd Wright Trust for the last ten years and a docent for the last five for the Chicago Architecture Center and its nationally recognized river cruises.
Additionally, Wayne has operated his graphic design and web design business for over 20 years. He's created logos and ad campaigns for national companies as well as for local businesses, including Cheetah Gym and Roscoe's Tavern. And, when he can find time, he designs and builds furniture, including a free sidewalk library in his Uptown neighborhood and a fetch stick version for dogs that was featured in People Magazine.
Wayne has acted as master of ceremonies for a variety of civic and charitable events, including Equality Illinois, Care for Real, PFLAG, The Gus Giordano Dance Company, Avon 39 Walk to Defeat Breast Cancer, The Nathan Manilow Sculpture Park at Governors State University, Back 2 School Illinois, Intuit Gallery, and The Center on Halsted. Wayne has lived in the Uptown neighborhood for more than 30 years.