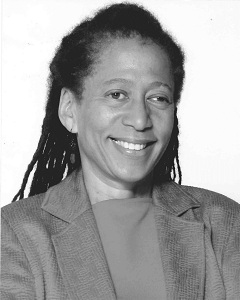 FRIEND OF THE COMMUNITY | Inducted 2012
For almost three decades, Laura S. Washington, has stood up publicly for lesbian, gay, bisexual, and transgender equality both as an official in the administration of Mayor Harold Washington and through her own honored voice in Chicago's mass communications media.
As Mayor Washington's deputy press secretary, she offered vocal and uncompromising support for the mayor's initiatives to institutionalize fairness and equality within city government for LGBT persons. Whenever some mayoral allies would react adversely to the broaching of such issues, she took them on, giving no quarter in her insistence that if the administration were committed to the principle of fairness, its application would need to be all-inclusive. By all reports, her arguments changed minds.
Before and after that time, whether as editor and publisher of an influential monthly periodical, The Chicago Reporter; as a columnist for the Chicago Sun-Times; as a contributing editor of the newsmagazine In These Times; or as a WLS-TV political analyst, she has repeatedly exposed a broader public to news, information, and analysis concerning sexual-minority Chicagoans.
Columns and articles that she wrote or published-many of them extensively detailed investigative pieces-have included such subjects as: the Chicago History Museum's groundbreaking 'Out in Chicago' exhibition in 2011; the maneuverings and influence of LGBT activists and organizations on electoral campaigns for city, state, and congressional offices; the positions taken by activists on the potential mayoral appointment to a vacant aldermanic seat of an aspirant who was controversial because of his past public positions on sexual-minority issues; the origins of the Center on Halsted community center as well as later debates about public safety on Halsted Street; suggested parallels between gay and African American entrepreneurship and activism; the intricacies of a 1990-91 controversy over rewriting the city's human rights law and reorganizing the city's organizational structure for officially addressing LGBT concerns; divisions among ethnic-majority and ethnic-minority male and female state legislators over gay rights; the record of ethnic-minority churches in addressing or not addressing AIDS; and funding disparities for AIDS organizations primarily serving ethnic minorities.
Washington, who was born in Chicago, also served for six years as the Ida B. Wells-Barnett Professor at Chicago's DePaul University-a chair fittingly named for an investigative reporter, who was also a famous and courageous Chicago suffragist, teacher, civil-rights activist, and urban reformer in the late 19th and early 20th centuries. (Note: information listed has not been updated since the member's induction).