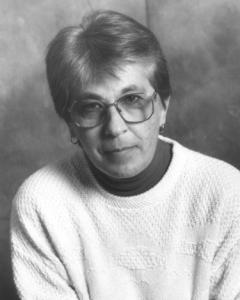 INDIVIDUAL | Inducted 1998
By founding project VIDA in 1992, Luule Vess took the battle against HIV and AIDS far from the lakefront to the streets of Chicago's low-income South Lawndale neighborhood. Project VIDA has won awards and has quickly grown into a major lesbigay-friendly AIDS service provider. Earlier, she helped to develop a Cook County Hospital substance abuse program for homeless, HIV-positive injection drug users.
Born in Germany, Vess came here as a child in 1950. Later, after a stint teaching in Chicago public schools, Vess moved into delivering substance abuse treatment in Oak Park and on the Near South, South, and West sides of Chicago, where she saw the problems faced by adolescents of color and by adult recidivists.
At the Cook County Hospital HIV Primary Care Center in 1990, Vess helped to develop an outpatient substance abuse program, targeting a homeless HIV-positive injection-drug-using population. At the same time, Vess volunteered at Horizons Community Services, where she facilitated the organization's first Living Positive group for gay men. She also started counseling programs for Chicago House and the Kupona Network.
She came to realize that the needs of young people of color, including those exploring and questioning their sexual identities, were not being met by Chicago's established social service agencies. In 1991, she began to explore starting a new grassroots effort in South Lawndale.
At a meeting in early 1992 with Judith Johns, who was the Chicago Department of Public Health's first Assistant Commissioner for HIV/AIDS, Vess secured a $15,000 grant for a start-up program targeting Latino and Latina youth at high HIV-infection risk. That year, Project VIDA was born.
Under Vess's guidance as its volunteer executive director, Project VIDA won grants for an array of prevention activities and for other services to persons living with or affected by HIV. She garnered local support and put together an organization reflecting the area's young Mexican, Mexican American, and African American population—and including strong gay and lesbian involvement.
Project VIDA worked with Spanish-language radio stations to develop HIV education messages and attracted support from LIFEBeat, the music industry's response to AIDS. The group brought alternative therapy options and mental health services to South Lawndale and started an ethnically tailored grocery service. Meanwhile, Vess supported herself with what was in effect a second job at Howard Brown Health Center. Only after 1995, when finances improved, was the Project VIDA board able to offer her a modest salary and enable her to work for it full-time.
Project VIDA has won two excellence awards from the Chicago Department of Public Health and was held up as a model organization by Clinton Administration AIDS officials. In late 1997, it was awarded a $400,000 contract to bring HIV education into Chicago public schools. In six brief years, Vess has done a remarkable job in starting a lesbigay-friendly organization in one of Chicago's poorest ethnic neighborhoods and developing it into a million-dollar, model service provider. (Please note: this information has not been updated since the time of the member's induction).