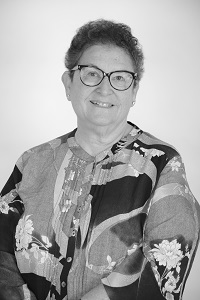 INDIVIDUAL | Inducted 2015 [now deceased]
For 30 years, Lauren Verdich played a critical role in Chicago's LGBT community. She wass one of those people who were seemingly everywhere, supporting high-stakes political candidates, and donating her time and money to organizations small and large. During the mid-1980s, as the AIDS crisis was taking hold in the city, and as the gay-rights movement was becoming stronger, both she and her company, Lauren's Catering, were critical contributors to many of the community's struggles.
Her LGBT activism began in 1985, when she came out and became part of a group of volunteers at the AIDS Memorial Quilt Display at Navy Pier who came together to provide hot meals to home bound Chicagoans with HIV/AIDS. Verdich helped to found Open Hand, an organization which served meals to people impacted by HIV/AIDS, and which still lives on today as part of Heartland Health Alliance. If all she had done was co-found that agency, her activist career would have been noteworthy, since Open Hand has been one of the city's most important responses to the ongoing AIDS crisis. However, she did much more; Lauren's Catering donated tens of thousands of dollars' worth of goods and services to nonprofits raising money for their work. She contributed to, and participated in, a variety of LGBT organizations, including LCCP, AFC, Impact, and Horizons, donating or providing at-cost food, service staff, and event planning expertise to these and other community groups. As an openly lesbian business owner, she was also an early, visible face of the community, when many other business owners remained in the closet. She was a founding member of the Chicago Area Gay and Lesbian Chamber of Commerce, founded in 1995, and which remains vital after twenty years.
Verdich's was active in political work; she and her spouse, Gail Morse, were major activists locally and nationally on LGBT and feminist issues. She was a host of Representative Jan Schakowsky's inaugural Ultimate Women's Power Lunch in 2001 and served as a host for many subsequent events. In 2005, she was the first Lesbian Co-Chair for Schakowsky's annual event. Verdich also served on the LGBT Advisory Council for Barack Obama's Senate campaign in 2004 and as an out delegate for Obama at the 2008 and 2012 Democratic National Conventions. In 2011 she was appointed to Lambda Legal's National Leadership Council. She also served on Representative Mike Quigley's LGBT Advisory Committee.
After 15 years in business, Verdich retired in 2001. She remained active in LGBT, women's, and civil rights organizations. In 2003, she held her birthday party at Sidetrack as a fundraiser for Horizon's LGBT Homeless Youth Program led by Vernita Gray. She was interviewed for and cited in two recent books, "Obama and the Gays" by Tracy Baim, and "Winning Marriage" by Marc Solomon. In both cases, the topic was her contributions toward encouraging President Obama's evolution on marriage equality. She passed away after a battle with pancreatic cancer in February 2023.