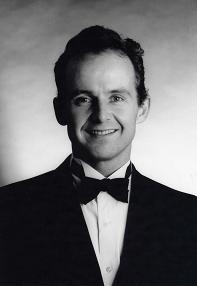 Photo by: Tracy Baim/Outline & Nightlines
INDIVIDUAL | Inducted 1995
In his early 20s Thomas M.Tunney bought Lake View's venerable Ann Sather Restaurant in 1981, expanded it, and has made it into a virtual community center for lesbian and gay Chicagoans and for older adults. He has been active in neighborhood business groups, IMPACT, Human Rights Campaign, and the Democratic Party. Besides backing Open Hand Chicago's home-meals program and running a soup kitchen, he has hosted countless gay and lesbian efforts and the White Crane Wellness Center. He has played a unique role in Chicago's gay and lesbian community. At the same time, he has contributed to the betterment of the city as a whole.
Born and reared on Chicago's Southwest Side, Tunney is part of a large family, several of whom have been in the restaurant business also. Tunney earned a bachelor's degree in restaurant management from the University of Illinois and a master's degree in hotel administration from Cornell University. At age 23, he heard that Ann Sather, a Lake View fixture who had opened her homey, Swedish-themed restaurant in 1945, was ready to retire. Sather and Tunney hit it off from the start, and they quickly agreed on a transition that culminated in his buying Ann Sather Restaurant in 1981 and expanding it to its present size.
In the 1980s, Tunney was president and board member of the Lakeview Central Business Association, where he helped to mobilize business owners and bring focus to neighborhood development. He has also served on the board of the North Halsted Retail Merchants Association and was appointed by Mayor Richard M. Daley to the city's Economic Development Commission.
Since 1985, Tunney has served on the board of White Crane Wellness Center, a not-for-profit organization helping older adults to maintain health, dignity, and independence. For three years, Tunney was its president. White Crane has a multi-ethnic dues-paying membership of more than 700 and has made its home at Tunney's restaurant since 1989. Among other results, the relationship has fostered White Crane's involvement in various gay/lesbian and HIV/AIDS issues.
A myriad of other groups have also found a home at the restaurant because of Tunney's support, including Chicago Professional Networking Association, Professionals Over Thirty, ACT-UP Chicago, and Queer Nation Chicago.
After the onset of HIV/AIDS, Tunney provided free meals to hospital patients. He also backed Open Hand Chicago's home-meals program and still consults with the group, besides running a daily soup kitchen for 75 to 100 persons. He has helped the annual "Dining Out for Life" AIDS fundraiser to succeed and has encouraged other businesses to support AIDS Walk Chicago. He is also a business adviser to the late John Baran's Unicorn Foundation, which funds HIV/AIDS- and gay-related causes, and he is a frequent financial donor to gay/lesbian and HIV/AIDS causes.
Politically, too, Tunney has been much involved. He has served on the board of IMPACT and chaired its annual dinner for three years. He is a member of the Human Rights Campaign Fund's Federal Club. He was named as an alternate (Clinton) delegate to the 1992 Democratic National Convention and has actively supported other politicians such as Dawn Clark Netsch, Carol Moseley Braun, Miriam Santos, Richard J. Phelan, and Gerry Studds.
In 1990, Tunney bought and renovated the 909 West Belmont Building, converting it into a vibrant center offering affordable rental to several gay, lesbian, and HIV/AIDS-related organizations. His Hall of Fame induction adds to much other community acclaim he has already received. (Please note: this information has not been updated since the time of the member's induction).