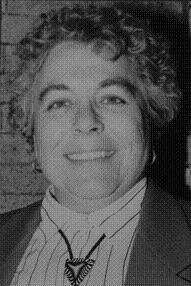 Photo by: Tracy Baim/Outline & Nightlines
INDIVIDUAL | Inducted 1993 [now deceased]
A native New Yorker, who began her activism in New York shortly after the Stonewall Revolution, Joanne E. Trapani was an early member of NYC's Gay Activist Alliance. She became a member of the Board of Directors of the Mattachine Society, was a founding member of Lesbian Feminist Liberation, and a member of the Manhattan Women's Political Caucus. Through this involvement, she gained hands-on experience in political lobbying, advocating on behalf of sodomy repeal [the New York State General Assembly] and the local Human Rights Ordinance [New York City Council].
After a decade of New York City political activism, she relocated to Illinois in 1976 and became a welcome presence in the Chicago-area gay and lesbian community. She co-chaired the Illinois Gay and Lesbian Task Force for several terms and served as liaison to state and local governments and agencies. In 1997 she became a member of the Oak Park village board as the first open lesbian elected to office in Illinois, and in 2001 Oak Park voters elected her as village board president.
She organized testimony for and lobbied in behalf of the Illinois Human Rights Amendment [to include lesbians and gays as a protected class], as well as worked for passage of the Cook County Human Rights Ordinance and the Oak Park Human Rights Ordinance.
She presented keynote addresses at the lesbian and gay student organizations at Western Illinois University, Augustana College, and Southern Illinois University. Trapani also addressed numerous law enforcement agencies, as well as conducted lesbian and gay sensitivity training for the Chicago Police Department, the Oak Park Police Department, the Cook County Sheriff's Police and Court Services, the Cook County Forest Preserve Police Department, the Cook County State's Attorney's Office, and various suburban police departments.
Trapani staffed the Cook County Commission on Human Rights, and served as liaison to the lesbian and gay communities of Cook County from Richard Phelan, President of the Cook County Board of Commissioners. Trapani was also a member of the Chicago Police Department Gay and Lesbian Advisory Council, the Cook County State's Attorney's Hate Crimes Prosecution Council, the Democratic Party Affirmative Action Commission, and the Cook County State's Attorney's Lesbian and Gay Advisory Council.
Her other organizational affiliations included Dignity-Chicago, the Chicago Gay and Lesbian Community Center [Frank M. Rodde Fund], and the Oak Park Lesbian and Gay Association.
Trapani has been honored by the Gay Chicago Magazine Awards [Woman of the Year], and she has been the recipient of the John Michie Award, presented by Dignity-Chicago, and the Alongi Award for Political Activism, presented by IMPACT. (Please note: this information has not been updated since the time of the member's induction).