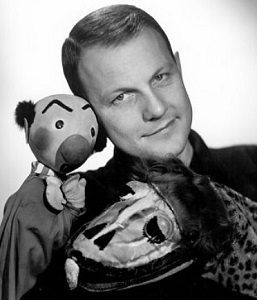 Photo by: Maurice Seymour
INDIVIDUAL | Inducted 2013 [Posthumous]
Burr Tillstrom (1917–1985), a native Chicagoan, for his contributions to the early days of television and in particular for his creation of unforgettable puppet characters such as Kukla and Ollie. He enriched the lives of children and adults through the "Kukla, Fran and Ollie" show with co-host Fran Allison, as well as through other performances over five decades beginning in 1936.
The puppeteer Burr Tillstrom is best-remembered for creating Kukla and Ollie and for his numerous contributions to the television industry from the days of its Chicago infancy. In honor of his Kuklapolitans, he won a 1980 Citation of Excellence from the American chapter of the Union Internationale de la Marionnette. Among many other honors, he won five Emmys and a Peabody Award. He also influenced other famous puppeteers, such as Jim Henson.
Franklin Burr Tillstrom was born in 1917 in Chicago. He created Kukla in 1936, but the character's name came later when the ballerina Tamara Toumanova bestowed the Russian word for "doll" on him. After a period of puppet performances in Chicago and in a play by Gertrude Stein at a Detroit festival, Tillstrom began work for the Radio Corporation of America, touring the Midwest to demonstrate the new medium of television through puppetry. He performed more than 2,000 shows for RCA at the 1939 New York World's Fair. In 1940, RCA sent him to Bermuda, where he took part in the first ship-to-shore telecast.
At the 1939 fair, Tillstrom developed the concept of "Kukla, Fran, and Ollie". During World War II, while performing at benefits in the Chicago area, he met the radio singer Fran Allison at a war-bonds rally. She joined his troupe for a 13-week trial run that lasted more than 10 years. His television show, "Kukla, Fran and Ollie", ran nationally from 1949 to 1957 and in other versions intermittently thereafter. It has been seen in countless reruns over the years. After the initial series' 1957 conclusion, Tillstrom continued working with the Kuklapolitans on other television and stage shows through the 1960s and as late as the 1980s. For two seasons beginning in 1970, "Kukla, Fran, and Ollie" appeared on National Educational Television, taped at Chicago's WTTW.
Tillstrom brought his characters to a 1984 book, "The Dragon Who Lived Downstairs". At the time of his 1985 death in Palm Springs, California, he was at work on a musical adaptation of his story for television. In 1986, he was posthumously inducted into the Television Academy Hall of Fame. His archives are at the Chicago History Museum, and he was buried beside the graves of his parents in Chicago's Rosehill Cemetery.