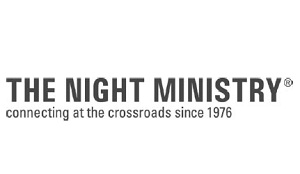 FRIEND OF THE COMMUNITY | Inducted 2011
Since its founding in Chicago's Lakeview neighborhood in 1976, The Night Ministry has built relationships with vulnerable youths and adults on the city's nighttime streets. The social service organization is Chicago's leading provider of emergency housing for runaway and homeless youth, of whom LGBTQ youth constitute a disproportionate (20 to 40 percent) number. It also provides them with HIV testing, counseling, and referrals.
The Night Ministry's social-service model celebrates the diversity, uniqueness, and dignity of each person. It provides a range of services for homeless adults and youths with programs that value nonjudgmental listening, caring, and compassionate support, with a focus on connecting people to the resources that can make their lives better.
Family conflicts, abuse, and problems at school all contribute to the homelessness epidemic, and these factors dramatically affect LGBT youths. Some find themselves thrown out, disowned, aging out of foster care, or leaving the juvenile justice system with nowhere to go. Because of these and other issues, the risks for LGBT youths of suicide, contracting HIV, and drug abuse are extremely high.
The Night Ministry works to alleviate some of these grim realities, serving youths through outreach, a 120-day housing program for pregnant and parenting teens, an interim shelter and support-service program for youths between 14 and 20, and a Transitional Living Program that transitions youths between 16 and 20 to independent living within two years.
In 2010 alone, The Night Ministry tested 722 people for HIV from its Health Outreach Bus, which has provided HIV testing, counseling, and referrals on the street since the late 1980s, when the organization began its HIV testing program.
Because housing options for homeless youths are limited and dangerous, The Night Ministry opened "The Crib" inside Lakeview Lutheran Church in 2011. The overnight shelter serves a meal when it opens at 9 p.m., and the youths must leave in the morning. It has become the only overnight shelter in the Midwest for youths between 18 and 24. During the first four months in operation, The Crib served 140 youths, almost three-quarters of whom were LGBT, and almost one-third of whom were transgender.
For 35 years, The Night Ministry has provided compassionate service to the homeless, and especially to homeless youth. Its counselors and programs have helped change the course of countless lives, LGBT and otherwise. (Note: information listed has not been updated since the organization's induction).