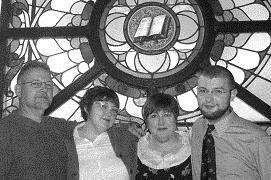 FRIEND OF THE COMMUNITY |  Inducted 2003
William, Nannette, Will, and Amelia Graham received a "Friend of the Community" award for efforts against racism and homophobia within their United Methodist denomination, including their pursuit of a sexual-orientation discrimination claim against a campground in Des Plaines. The Graham family, felt homophobia affect them years ago when Amelia came home from grammar school and asked, "What's a faggot?" Nannette responded that it was a word she should not use because it included a "friend of ours" and was not a nice thing to call them.
As occupants of a cottage at the Historic Methodist Camp Ground in Des Plaines, the Grahams again perceived bigotry in 1994 when Nannette tried to promote ways for making the campground more accessible to inner-city youth. In the wake of that incident, the Chicago area's United Methodist bishop came to preach against racism at the campground, but thereafter the Grahams felt shunned by other cottagers.
In 1998, a gay male couple and their son rented a cottage at the campground and encountered hostility. Those events set off a chain of responses that have included a long, still-pending legal battle over whether the Grahams have the right to continue occupying a cottage at all.
The gay men's applications to rent and then to purchase a cottage were refused in 1999. The Grahams supported them, to the point of producing and hanging signs of welcome in their own cottage windows, inviting the men to be guests in the Grahams' cottage, and informing campground officials that the men would be their guests. According to officials of the Chicago District Campground Association, which operates the facilities, the Grahams' action violated the rules and meant their occupancy rights would be terminated. The Grahams were subsequently locked out of their cottage even though members and officials of the United Methodist Church itself opposed that action.
That same year, the gay men and the Grahams filed complaints with the Cook County Commission on Human Rights alleging unlawful discrimination and retaliation by the campground operators. The case has been argued at length since then over questions of the campground operators' religious freedom and the complainants' right to nondiscrimination.
For all its members' courageous and principled stands in behalf of their neighbors, the Graham family is honored this year as a "Friend of the Community". (Please note: this information has not been updated since the time of the member's induction).