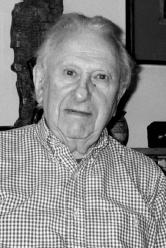 FRIEND OF THE COMMUNITY | Inducted 2001 [Now Deceased]
The renowned author and oral historian, broadcast host, commentator, arts supporter, and activist is a "Friend of the Community" because, throughout his long life, Studs Terkel's steadfast championship of social justice has included support for the welfare and rights of sexual-minority persons, from backing Pearl M. Hart for alderman in the 1940s to including gay interview subjects in his latest book.
An early example was his 1940's participation in the aldermanic campaign of the late Pearl M. Hart, a pioneering Chicago lawyer who was not openly lesbian but whose career mixed representation of countless gay men and lesbians with advocacy for other vulnerable groups such as leftists and the foreign-born. Terkel aired one of the first radio interviews with representatives of Mattachine Midwest by inviting James Bradford (as its longtime president was known) to be on his show.
In the early 1970's, when a local church that hosted Alderman Dick Simpson's annual 44th Ward Fair refused to let the fair include a gay organization's booth, Terkel arrived, saw a gay picket line, spontaneously joined it, then went inside the fair and vigorously denounced the anti-gay exclusion.
Several of Terkel's well-known books of oral history, which began publication in 1967, have included profiles of lesbian and gay figures such as the late writer and activist Valerie Taylor; the late writer, minister, actor, and activist George S. Buse; Mattachine Midwest's Bradford; and Mattachine Society founder Harry Hay. Gay and lesbian persons also figure in Terkel's last book, 'Will the Circle be Unbroken? Reflections on Death, Rebirth, and Hunger for a Faith'.
The third son of Russian Jewish parents, Terkel was born in the Bronx on May 16, 1912, and named Louis Terkel. Eleven years later the family moved to Chicago, where his father found work as a tailor. After graduating from high school in 1928, Terkel attended the University of Chicago, from which he received a law degree in 1934 during the worst of the Depression. He found work producing radio shows and, using the name Studs after the title character of James T. Farrell's 'Studs Lonigan,' also performed with the Chicago Repertory Theatre company. There he met Ida Goldberg, a social worker and lifelong activist who became his beloved wife until her 1999 death.
After World War II, Terkel worked as a radio news commentator and disc jockey. In 1949 he began his own television show but lost his contract after being targeted by McCarthyites in 1953 because of his leftist politics. A career as jazz columnist, actor, author, and radio host ensued—including his daily WFMT radio program, 'The Studs Terkel Show', which started in 1958 and for the rest of the century aired thousands of penetrating interviews with celebrities and unknowns.
Terkel has been described as a historian and a sociologist, but he is said to call himself a "guerrilla journalist with a tape recorder." His campaigns have been for all of us. Studs Terkel died October 2008 at age 96.