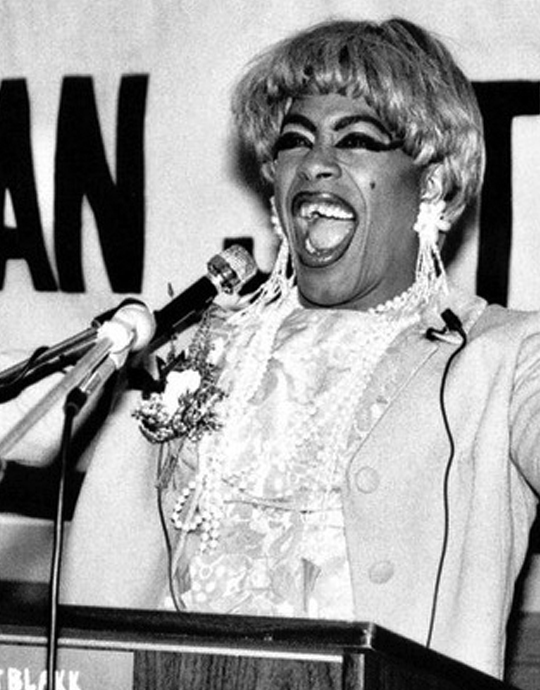 Individual | Inducted 2023
Terence Alan Smith created the character of Joan Jett-Blakk, one of the first drag queens to step off the stage and enter the world of politics. In 1990, inspired by Queer Nation and the need for visibility during the AIDS crisis, s/he challenged Richard M. Daley for Mayor of Chicago. Bringing blackness and queerness into an otherwise mundane campaign, s/he helped to give voice to a community coming into its own. Many years as a drag performer and black-tress left Joan with a quick wit and a fresh look at the issues that glamorized the decidedly unglamorous world of Chicago machine politics.
In 1992, Joan entered the presidential race, becoming the first drag queen to seek the highest office in the land. S/he often said, "If a bad actor could be elected president, why not a good drag queen?" One of her campaign slogans was "Lick Bush in '92." That year, Joan attended the Democratic National Convention in New York City, delighting delegates and angering conservatives.
Since relocating to San Francisco in 1992, Joan Jett-Blakk has been the subject of a play about her political career, written and directed by Tarell Alvin McCraney and Tina Landau at Chicago's legendary Steppenwolf Theatre. "The Beauty President," an award-winning documentary about Smith/Jett-Black, was directed by Whitney Skauge. Recently s/he has been hosting her talk show, "Late Nite with Joan Jett-Blakk." In 2019, Joan Jett Blakk was awarded a Sustained Achievement award by Queer|Art, a non-profit LGBT+ arts organization.