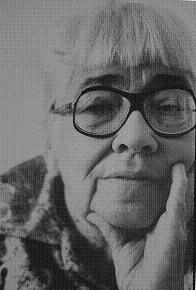 INDIVIDUAL | Inducted 1992 [Now Deceased]
The Chicago LGBT Hall of Fame celebrates the life of 1992 inductee, Valerie Taylor. Born in 1913,
Valerie Taylor
was a nationally known author of lesbian-themed novels and poems and one of Chicago's gay and lesbian activism's authentic pioneers. She was an outspoken advocate of lesbian and gay concerns from the 1950s onward and wrote several lesbian-themed novels and poems. She edited the
Mattachine Midwest Newsletter
while in Chicago and was active in the Women's International League for Peace and Freedom.
Besides the novels and poems that she published since the 1950s, Taylor made many public appearances to great effect in Chicago during the 1960s and early 1970s–sometimes identifying herself as founder of the "Lesbian Grandmothers of America" (she is one), and always advocating persuasively for lesbian and gay welfare before media, City Council, and rally audiences.
Not only was Taylor a founder and board member of Mattachine Midwest beginning in 1965, but she was involved in short1lived predecessor attempts to start a Mattachine group in Chicago, and she was involved with an early Daughters of Bilitis group here as well. For years, she either edited or greatly assisted with the publication of the Mattachine Midwest Newsletter.
She was also active in the local chapter of the Women's International League for Peace and Freedom and joined as an open lesbian in its peace efforts during the Vietnam War era. In 1975, she received the Paul R. Goldman Award from ONE of Chicago, an early group that was a branch of Los Angeles's historic ONE Inc. T
As she once pointed out in a Common Likes/Lesbian Lives interview, Taylor comes from a tradition of women's activism; one of her great-grandmothers marched in the first suffrage parade in Elgin, Illinois, in 1889.
Taylor also frequently and proudly referred to her Potawatomi ancestry and, having coped successfully for many years with a physical impairment, she was an advocate for the disabled as well. Never a rich woman financially, her wealth of energies and skills have always gone primarily toward social change and the relief of oppression. She died in 1985.