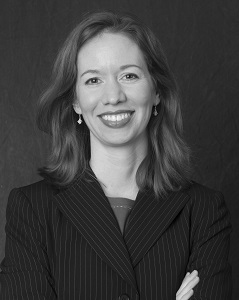 Photo Courtesy of Lambda Legal
FRIEND OF THE COMMUNITY | Inducted 2015
Camilla B. Taylor is inducted into the Chicago Gay and Lesbian Hall of Fame as a Friend of the Community for her successful prosecution of Lambda Legal's marriage equality lawsuit in Iowa, which was a pivotal moment in gaining marriage equality nationwide, and her further legal work on behalf of the LGBT
She was born in Cleveland, Ohio, in 1970, but has been active in Chicago since 2002. She received her J.D. from Columbia Law School and her B.A. from Yale College; she is currently an adjunct professor at Northwestern University School of Law, and also serves on the American Constitution Society Chicago Chapter Board of Advisors. Taylor is the Marriage Project Director (national position) in the Midwest Regional Office of Lambda Legal.
She served as lead counsel in Lambda's marriage equality lawsuit in Iowa, Varnum v. Brien, where, by unanimous decision, the Iowa Supreme Court struck down that state's marriage ban in April 2009, making Iowa the third state in the country to permit gay and lesbian couples to marry. Along with Paul D. Castillo and the law firm Kirkland & Ellis LLP, she served as co-counsel on Bogan v. Baskin, a federal suit that challenged the constitutionality of Indiana's marriage ban. Taylor argued that case before the Seventh Circuit Court of Appeals, which issued a sweeping decision that not only struck down Indiana's ban but also held that all laws targeting people based on their sexual orientation now warrant elevated scrutiny. Taylor is also part of the team of co-counsel on appeal in Robicheaux v. Caldwell, a challenge to Louisiana's marriage ban, and argued that case before the Fifth Circuit Court of Appeals.
Taylor's other past or present marriage cases include Darby v. Orr, a state court case representing 16 couples seeking to marry in Illinois, and Garden State Equality v. Dow, a state court case that won the freedom to marry in New Jersey, in addition to a federal suit that obtained an emergency order allowing an Illinois woman with terminal cancer to marry her longtime partner, a federal class action lawsuit that struck down Illinois's marriage ban as unconstitutional, a federal challenge to West Virginia's marriage ban, and a federal challenge to North Dakota's marriage ban. In addition, Taylor has contributed friend-of-the-court briefs in numerous federal and state cases challenging marriage discrimination. In states where same sex couples have won the freedom to marry, she has challenged refusals to provide equal marital benefits and protections to same-sex spouses and their children.
In addition to her work as a litigator, Taylor was the primary drafter of Illinois marriage legislation, has contributed to legislative efforts concerning marriage and parenting around the country, and has testified multiple times before state legislatures in support of marriage bills and in opposition to measures that would permit discrimination against LGBT people. (Note: information listed has not been updated since the member's induction).