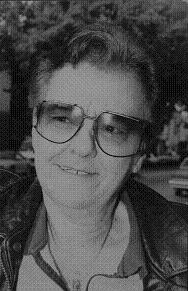 Photo by: Tracy Baim/Outline & Nightlines
INDIVIDUAL | Inducted 1993
As a successful businesswoman, she has contributed time, energy, and resources to numerous community organizations. She was a founder of the Chicago chapter of Parents and Friends of Lesbians and Gays (PFLAG), appeared in several video projects, and initiated the "Gay$" project. Marge Summit has been a vocal and visible member of Chicago's gay and lesbian community for many years. She is best known as the owner of His 'n Hers, a popular bar and restaurant that was located for many years beneath the Addison L stop; forced out of this location by the Chicago Transit Authority, Summit moved her business to North Broadway in the 48th Ward. There she was the object of ongoing harassment. Summit closed her business in mid-November of 1993.
During the 1970s and early 1980s, Summit's establishment was among the first to offer live entertainment, and she promoted the careers of numerous young gay and lesbian artists, including Diana Straight-as-an-Arrow, Chris Clason and Wacker Drive. His 'n Hers became well known for its "open mike," and was considered by many to have the "best burgers" in Chicago. Summit produced a record album "Gay and Straight Together," featuring performers who appeared at His 'n Hers.
She appeared in the film "Before Stonewall," which chronicled pre-1968 activities of the national gay and lesbian community. Along with QED Productions, Gary Chichester and R.J. Chaffin, Summit later co-produced "Crimes of Hate," a documentary film about anti-gay and anti-lesbian occurrences in Chicago.
Summit has a long history of activism. She was a member of Mattachine Midwest, as well as active in the formation of Parents and Friends of Lesbians and Gays. Along with gay businessman Frank Kellas, Summit pioneered the "Gay $ Project", creating an ink stamp to mark paper currency as coming from gays and lesbians, demonstrating our economic impact on everyday commerce. She was among those who picketed Evergreen Foods, educating its owners and other "mainstream" businesspersons that gays and lesbians are among their regular customers and are deserving of common courtesy and respect.
Over the years, Summit opened His 'n Hers to a number of organizations — allowing many to use her establishment to raise funds for a variety of causes, as well as just to socialize in a safe environment. Most recently, His 'n Hers has been home to aficionados of the gay computer bulletin boards, as well as David Boyer's Original Country-Western Dance Party. She has participated in AIDS Walk Chicago and Strike Against AIDS, and she has produced a number of fundraisers at her bar for Chicago House and other organizations.
Summit is especially proud of being a parent, having adopted — against all odds — a child of racially-mixed lineage, rearing her to adulthood and proving that lesbians and gays can be good parents.
She has been honored twice by the Gay Chicago Magazine Awards, and was also recognized by Mattachine Midwest. Summit has also been the recipient of the John Michie Award from Dignity Chicago and the Glynn Sudbery Award [for community service] from the Gay and Lesbian Caucus of the Independent Voters of Illinois and Independent Precinct Organization. (Please note: this information has not been updated since the time of the member's induction).