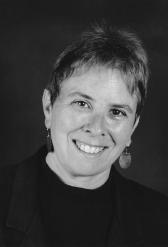 INDIVIDUAL | Inducted 2002
For more than 20 years, Lauren Sugerman has led as an out lesbian in improving economic status and working conditions for women in construction and manufacturing trades. In 1981, she co-founded Chicago Women in Trades, of which she has been director and president. She has served on state and federal boards and chairs the national group Tradeswomen Now and Tomorrow. She began her career in 1980, working as an elevator mechanic helper for Westinghouse Elevator Company. She worked in construction, repair, and maintenance of escalators and elevators throughout the Chicago area and is a member of the International Union of Elevator Constructors.
Since its inception, CWIT has been helping girls and women to gain awareness of, to access, and to build careers in male-dominated fields of construction and manufacturing. Sugerman has led in developing CWIT from an all-volunteer-run support group to a nationally recognized training and advocacy agency with a $1 million budget. The group's programs include career training; outreach and education to expand women's occupational choices; job counseling and referrals; technical assistance for employers, unions, and public agencies to promote equitable training, hiring, and retention policies for women in the trades; and public policy advocacy to eliminate barriers between women and high-wage, high-skills jobs. CWIT's work in developing publications, programs, and policy initiatives has local and national impact. Sugerman is co-author of several of the group's publications, including 'Building Equal Opportunity' and 'Drafting the Blueprint.'
Sugerman was named by the U.S. Department of Labor to represent tradeswomen's issues as a member of the Employment and Training Administration's Federal Committee on Apprenticeship and of the Occupational Safety and Health Administration's Advisory Committee on Construction Safety and Health. For the latter, she chaired a work-group that produced a report to which she and CWIT significantly contributed, "Women in the Construction Workplace: Providing Equitable Safety and Health Protection." She currently serves on the Governor's Commission on the Status of Women in Illinois and the Illinois Workforce Investment Board. She also chairs the national organization, Tradeswomen Now and Tomorrow.
In 1999, Sugerman received a Community Service Fellowship award from the Chicago Community Trust. The award funded a year's sabbatical in which she was able to visit and share experiences with tradeswomen and training programs in Cuba, Nicaragua, South Africa, and Spain and to study toward a master's degree in community economic development at New Hampshire College. She also received honors from the coalition of Labor Union Women and from Chicago Women in Philanthropy. (Please note: this information has not been updated since the time of the member's induction).