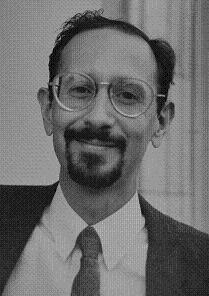 Photo by: Tracy Baim/Outline & Nightlines
INDIVIDUAL | Inducted 1995 [Now Deceased]
As a quietly persistent young lawyer, in 1988 James Monroe Smith founded the AIDS Legal Council of Chicago, an unprecedented vehicle for involving the city's general legal community in helping persons with HIV/AIDS. Before leaving ALCC in 1993, he received the Chicago Bar Association's Maurice Weigle Award for his work. He published two textbooks on AIDS and health care and taught AIDS-related college and law school courses. Born in 1957, he died in 2003.
A Connecticut native, Smith came to Chicago in 1982 to attend John Marshall Law School. After graduation and a period of work for the U.S. Department of Health and Human Services, Smith left to found ALC in 1988. The group helps HIV-affected persons who need legal services or assistance in obtaining government entitlements.
When organized, ALC was nationally unique in AIDS legal service delivery. It was the first such agency to be "freestanding," unconnected with any other organization. And AIDS legal services in Chicago were quite limited at the time.
By the time Smith left as executive director of ALC in 1993, it had grown to employ a staff of eight. Four members of the staff are based at Cook County Hospital to help persons with HIV/AIDS there to get public aid and social security benefits. Through ALC, Smith succeeded in attracting pro bono services from a large number of Chicago lawyers and law firms, many of whom had never before participated in gay- or AIDS-related legal matters.
Smith's book, "AIDS and Society", was published by Prentice-Hall in January 1996. It was one of the first textbooks in the United States covering AIDS issues and was geared to the college market. He taught a course titled "AIDS Law and Public Policy" at Loyola University Chicago School of Law and at IIT Chicago-Kent College of Law. In addition, he taught an undergraduate course, "The Politics of HIV," for senior students at Northwestern University.
Involved in Chicago's lesbian and gay community for more than a decade, Smith was a volunteer with Open Hand Chicago and was currently both a deputy voter registrar and a volunteer with the Equality Illinois. His unassuming personal style gave little clue to the lasting accomplishments he made. His quiet persistence was a model of effective activism.