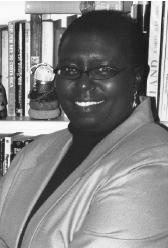 INDIVIDUAL | Inducted 2002
In 1994, after leaving graduate school, Christina Smith joined in efforts to set up a South Side community center for African American lesbian and bisexual women, she has pursued a vision of helping women of color. Her efforts led to creation of Affinity Community Services, which she has served as board president.
She was asked to join a planning committee of LGBT community members working toward a South Side-based community center. The Affinity Steering Committee was formed, with Smith as its chairperson. Though some of its members lacked organizing experience, Smith recognized that they had skills and qualities needed for community social change, and she helped them to apply those gifts. Under her leadership, the present Affinity Community Services was born.
Affinity is located in Chicago's Hyde Park neighborhood. Its specific aims are to provide comprehensive services and a safe space on the South Side for "bisexual women, transgender women, lesbians of color, our families, friends and other supporters," with some activities open to all, some open only to those of African descent, and a fundamental goal of promoting wellness among the groups it serves and of adding to knowledge about African American lesbians.
During Smith's tenure, Affinity's budget grew to nearly $100,000, and the group now comprises a volunteer corps of more than 50 women, a full-time staff person, five main programming components, and a governing board of eight women. The group is investigating possibilities for a larger space. Its programs include Forty Plus (socialization and networking for those over 40), the Healthy Woman Series, Lez Chat (for those between 25 and 40), a Social Justice Committee, and the "Xpressions of You" Youth Program (for LGBT youth 18 to 25).
Smith's stature as a licensed clinical social worker and as a board representative plays a major part in gaining recognition of Affinity by other LGBT groups and by philanthropic funders. She has also served on boards of the Lesbian Community Cancer Project and of Women in the Director's Chair. In behalf of Affinity, she has also collaborated with Equality Illinois, Chicago Black Lesbians and Gays, Windy City Black LGBT Pride, Howard Brown Health Center, and Horizons Community Services as well as with conferences locally and nationally. Smith's leadership has helped to move Affinity into the limelight as the only black-female-managed agency providing supportive services for black lesbian and bisexual women in the Midwest. (Please note: this information has not been updated since the time of the member's induction).