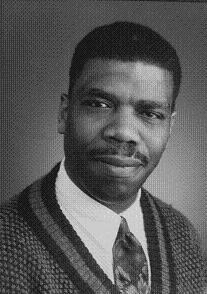 Photo by: Stuart Rodgers, Ltd.
INDIVIDUAL | Inducted 1995.
A licensed clinical social worker, Armando L. Smith has worked in community-based organizations for more than 20 years and is a mainstay of Chicago lesbian, gay, and AIDS groups. He has led Horizons Community Services' telephone helpline, has headed the AIDS Foundation of Chicago's Service Providers Council, and served on numerous boards including that of Kupona Network.
His involvement in the gay and lesbian community started in the 1980s when he became a supervisor for the Lesbian and Gay Helpline (929-HELP) at Horizons Community Services. He is now the chief supervisor for the Helpline. In addition, he chairs Horizons' Diversity Task Force.
With the onset of HIV in Chicago, Smith turned his attention to fighting the epidemic. In 1987, when the Illinois Department of Public Health awarded the contract to Horizons for the AIDS Hotline, Smith played a significant role in its installation and operation. He also was one of the early board members of the Kupona Network after it was formed in the mid-1980s. After several years, he rotated on and off the board.
Smith also chaired the Service Providers Council of the AIDS Foundation of Chicago, the largest such provider coalition in the Chicago area. In addition, he sat on the boards of AIDS Walk Chicago and Rally-to-Life, an organization dedicated to providing health education and prevention to African American and Latino youth.
Besides his other involvements, Smith was a board member of IMPACT, the gay and lesbian political action committee. He was also a member of the board and chairs the Young Playwright Festival Committee of Pegasus Players, a theater organization committed to making professional theater accessible to disenfranchised communities.
Smith often conducted training on HIV and other health issues for community-based agencies and their clients. He was on the faculty of the Midwest AIDS Training and Education Center, which provided training on HIV to health and social services professionals. Born in Panama of African descent, he has conducted workshops and training on HIV/AIDS, minority health issues, cultural diversity, and gender issues across the United States and in South America. He is a consultant to several units of the U.S. Department of Health and Human Services, including the Centers for Disease Control and Prevention, the Office of Minority Health, and the Center for Substance Abuse Prevention.
Smith received numerous awards and commendations from community-based groups, including the Horizons Human First Award in 1995. He is the author of "Feminist Social Work Practice with Teenage Parents," which appeared in the 1991 anthology "Feminist Social Work Practice in Clinical Settings".
Despite his heavy load of professional and volunteer commitments, Smith follows through, while retaining the sense of humor and down-to-earth approach that have added to his acclaim. (Please note: this information has not been updated since the time of the member's induction).