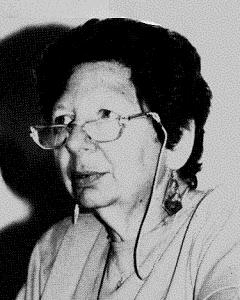 Photo by: Micki Leventhal
INDIVIDUAL | Inducted 1991 [Now Deceased]
A Chicago native, educated at the University of Illinois and with a Ph.D. from the University of Chicago, Adrienne Smith came out publicly as a lesbian in 1973. Since then, she has appeared on national and local television and radio programs, talking about gay and lesbian rights. Additionally, she was called on repeatedly to testify before committees of both the Chicago City Council and the Illinois House of Representatives during the early years of the struggle to pass human rights legislation protecting lesbians and gay males.
She was one of the first openly gay lesbian psychologists within the American Psychological Association. She wrote and edited several publications and appeared on local and national television and radio programs promoting gay and lesbian rights. Born in 1934, she died of cancer in 1992.
As one of the first openly lesbian psychologists within the American Psychological Association and within the city of Chicago, Smith was one of the people who maintained pressure on the American Psychological Association to change its homophobic policies. These efforts led to the formation of the APA's Division 44, the Society for the Psychological Study of Lesbian and Gay Issues; Smith recently completed a term as the group's president.
For almost two decades, Smith has provided an inspiration and role model to the gay and lesbian community. As an openly lesbian therapist for a number of years the only one in the Chicago metropolitan aerate provided an alternative to the usually homophobic psychotherapy which was all that was available during most of the 1970s.
She has served as an example to her students, and to other lesbian therapists who followed her pioneering lead in sharing their identity with the community. Smith is a well published author and editor, with her most recent works being Lesbians at Midlife: The Creative Transition and Reflections of a Jewish Lesbian Feminist Activist/Therapist.
Her organizational affiliations include Chicago Women Against Rape, The Women's Institute, Lesbian Counseling Collective, WICCA (Women in Crisis Can Act), Feminist Therapy Institute, Coalition Against Misdiagnosis, and Gray Pride Chicago. Smith maintains a private practice.
Please note: this information has not been updated since the time of the member's induction.