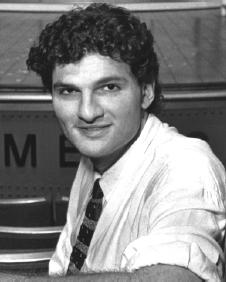 INDIVIDUAL | Inducted 2005 [Posthumous]
Larry Sloan fell in love with Chicago as a student at Northwestern University and never left. His energy, creativity, generosity, and passion for the city made him an influential leader in Chicago's worlds of art and advocacy. A theatrical director and fund-raiser, his achievements at the Goodman Theatre and Remains Theatre and as the first executive director of Season of Concern, the Chicago theater community's AIDS fund-raising organization.
At Northwestern, Sloan distinguished himself as a director, actor, and writer. He received the school's prestigious Agnes Nixon Award for an original play, Oedipus Wrecked. In his senior year, he began work as an artistic intern at the Goodman Theatre. During the next five years, Sloan moved up the ranks, eventually becoming associate director.
From 1986 to 1993, Sloan was the indefatigable artistic director of Remains Theatre. He worked fervently to establish Remains as an innovative force in the American theater. Productions he mounted and his entrepreneurial ideas made Remains a creative haven for Chicago artists and audiences. While at Remains, Sloan spearheaded the slashing of ticket prices, a far-reaching commitment to accessibility, the development of talented young artists, and other memorable initiatives. Such exciting but risky ideas are testaments to his personal philosophy. He wanted to build a theater that was inclusive, one that was inviting and vital to a new, broader audience.
During his seven years with Remains, Sloan produced and directed more than 25 shows, including such hits as "Puntila and His Hired Man", "Road", "Big Time", and "The Chicago Conspiracy Trial".
In 1991, Sloan took on additional responsibility as the first executive director of Season of Concern, the Chicago theater community's fund-raising effort to provide direct care to persons living with AIDS. Typically, he found inspiration in his own HIV-positive diagnosis and found a way to use his personal energy, anger, and compassion to help others. Under his leadership, Season of Concern doubled its annual budget and raised more than $500,000 for local AIDS service agencies. His work there earned him a special humanitarian award at the November 1994 Jeff Awards, which he accepted with the observation that "the more I live with AIDS, the more I am amazed not by how much it attacks the body, but by how much it frees the mind." Born in 1959, he died of complications from AIDS on January 19, 1995.
Sloan was a person of humor, dignity, and especially generosity. He changed the lives of many with whom he worked and, through his artistic and charitable work, the lives of many who never knew him. His passionate commitment to Chicago is still remembered.