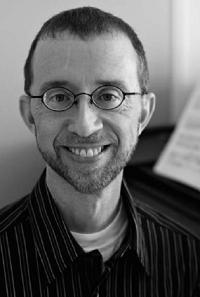 Photo by: Nate Chongsiriwatana
INDIVIDUAL | Inducted 2009
Patrick Sinozich, has been enriching Chicago's LGBT communities through the gift of song, dance, and entertainment for many years. He first became involved with the Chicago Gay Men's Chorus (CGMC) as an accompanist from 1988 to 1992. In 1992, he worked with Windy City Gay Chorus as accompanist for two years; in 1994 he took over as its interim artistic director.
In 1997, CGMC had the good fortune to hire Sinozich as its artistic director. Under his gifted leadership, CGMC grew into one of the largest and most highly respected gay choruses in the world. In 2003, he directed the first nationally televised performance of the national anthem by a gay chorus before a Chicago Cubs game at Wrigley Field. Besides its regular subscription concerts, Sinozich led CGMC in special performances at the Chicago Cultural Center, Navy Pier, Daley Plaza, and the Harris Theater, as well as at the Capitol rotunda in Springfield, at GALA Choruses festivals in California and Quebec, and in cities across the Midwest.
Sinozich has written more than 200 arrangements and original works, which have been performed by choruses in New York; Washington, D.C.; Kansas City, Mo.; Cincinnati; Albuquerque, N.M.; and Palm Springs, Calif., as well as by CGMC. He was the recipient of a Gay Chicago Magazine After Dark Award for music direction of the chorus's production of "Sidetrack III." In April 2006, CGMC performed the critically acclaimed world premiere of The Ten Commandments: The Musical, written by Sinozich and Bill Larkin.
Since 2007, besides his chorus work, Sinozich has been music director of Chicago a cappella, a nine-member Chicago classical vocal ensemble with which he has been involved since its 1993 founding. He is an acclaimed pianist, vocal coach, and chamber musician and is on the musical staffs of the Chicago Symphony Orchestra and the Grant Park Music Festival. He has produced three commercial CDs each for WCGC and for Chicago a cappella. His undergraduate work was at the University of Cincinnati College-Conservatory of Music; he completed graduate studies at Northwestern University.
Sinozich has enriched the lives of many Chicagoans through his creative programming for both CGMC and Windy City Gay Chorus. His talent and dedication have been demonstrated by the high quality of CGMC performances. He continuously strives to make the chorus's members work harder to learn more about music and to perform bigger and better productions. Without his creative and musical talents, CGMC would not be the strong and vibrant organization that it is today, and the cultural life of Chicago's LGBT communities would not be as enriched as they have been by his presence, his work, and his inspiration. (Note: information listed has not been updated since the member's induction).