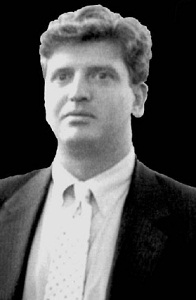 Photo by: Windy City Times
INDIVIDUAL | Inducted 2011 [Posthumous]
Jon Simmons (1955-1994), a city government liaison to LGBT Chicagoans under three mayors. Before being appointed by Mayor Eugene Sawyer in 1988, he had been Joseph Holmes Dance Theatre's executive director and a freelance writer and researcher. He was found murdered in Beverly Hills, Calif., while on a 1994 vacation.
Jon Simmons described himself as a "gay Everyman," but his accomplishments and civic dedication were nothing short of extraordinary. He was born February 15, 1955, in Pittsburgh, Pennsylvania. The resident of Chicago's Lakeview neighborhood received his bachelor's degree in English and writing from Columbia College in 1983 and served on the Illinois State Scholarship Commission as a student member from 1983 to 1985. From 1985 to 1988 he was executive director of Chicago's Joseph Holmes Dance Theatre. He was also a freelance writer for Windy City Times.
Simmons went on to have an enduring influence on the city's LGBT community by building ties between it and a succession of Chicago mayors: Harold Washington, Eugene Sawyer, and Richard M. Daley. In 1985, he was tapped by Mayor Washington to serve on his groundbreaking Committee on Gay and Lesbian Issues and was subsequently elected to chair the committee. In 1988, after Mayor Sawyer had succeeded Washington in 1987, the new mayor named Simmons as his coordinator for gay and lesbian issues.
The influence that Simmons developed became even greater during the early years of the Richard M. Daley administration. Two years after his 1989 election, Mayor Daley reorganized the Commission on Human Relations, creating the Advisory Council on Gay and Lesbian Issues, and the mayor picked Simmons to serve as its director. The advisory council sponsored, among other things, the Chicago Gay and Lesbian Hall of Fame, which was also created in 1991.
Simmons's earlier role had helped to lay a foundation, by providing a link between LGBT Chicagoans and the mayor's office, that aided eventual passage of the historic 1988 measure popularly called the Human Rights Ordinance. The ordinance added sexual orientation to the categories of discrimination explicitly prohibited by city law.
He stepped down from his advisory council post in 1991 to pursue a law degree at IIT Chicago-Kent College of Law. By mid-1994, the 39-year-old had graduated and was preparing to take the Illinois bar examination. He decided to take a well-earned vacation. On the night of October 1, 1994, while spending a few days in Los Angeles, where he had been joined by his San Francisco brother before continuing on an intended visit to Hawaii, Simmons was shot to death during a night out. His body was found early the next morning in a Beverly Hills alley. His murder remains unsolved.
Chicago government subsequently honored Simmons with a commemorative street designation. Signs reading "Honorary Jon Simmons Parade" mark each end of West Cornelia Avenue between North Halsted Street and North Broadway in recognition of his legacy.