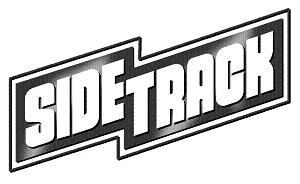 ORGANIZATION | Inducted 2006
In April 1982, Sidetrack opened its doors on a stretch of North Halsted IStreet that was still being "discovered" by gay Chicagoans. The street already had a number of gay-owned businesses —including Jim Gates' pioneering bar, Little Jim's—but Sidetrack brought something hitherto unseen there: a musicvideo bar. As the video bar phenomenon took hold nationally, Sidetrack's custom, in-house video editing became increasingly sophisticated. Crowds grew, longer lines stretched up the block, and the bar's quarters themselves expanded. Meanwhile, the growth of LGBT activism paralleled the bar's own growth, and Sidetrack, its owners, and its staff became indispensable parts of that activism.
At the time of its induction, Sidetrack was in its 25th year. During those years Sidetrack has hosted countless activist events and made untold donations of goods, services, and money. For example, Sidetrack helped to sustain Open Hand Chicago's meals-on-wheels program for people with AIDS when it started operations in 1988. One night a month for several years, Sidetrack's staff and management donated salaries and tips to Open Hand. Every Christmas and anniversary party since 1988 saw Sidetrack coordinating donations of food and personal supplies for people with AIDS to the Northside Grocery Center.
Among groups for which Sidetrack has been the host or has sponsored events are: AIDS Care Network; Gay Officers Action League; Parents, Families and Friends of Lesbians and Gays; Dignity/Chicago; AIDS Legal Council of Chicago; American Civil Liberties Union of Illinois; Chicago Gay Men's Chorus; Asians & Friends–Chicago; Chicago Metropolitan Sports Association; Congregation Or Chadash; Equality Illinois; Association of Latino Men for Action (ALMA); Center on Halsted; Gerber/Hart Library; Children's Place; Lesbian Community Cancer Project; NAMES Project/Chicago; Pride Youth; Gay and Lesbian Parents Group; Chicago Gender Society; Amigas Latinas; Team Chicago; About Face Theatre; Test Positive Aware Network (TPAN); Chicago Area Gay and Lesbian Chamber of Commerce; ACT/UP Chicago; Windy City Black Pride; and Affinity Community Services.
Sidetrack has also welcomed dozens of political figures over the years for campaign appearances and lobbying opportunities, including Illinois Gov. Rod Blagojevich, Illinois State Treasurer Judy Baar Topinka, Mayor Richard M. Daley, former Vermont Gov. Howard Dean, George Stephanopoulos, former Cook County Board President John H. Stroger, Jr., Illinois State Rep. Sara Feigenholtz, Illinois State Rep. Larry McKeon, Illinois State Sen. Carol Ronen, U.S. Sen. Barack Obama, U.S. Rep. Rahm Emanuel, U.S. Rep. Jan Schakowsky, U.S. Rep. Tammy Baldwin, and U.S. Rep. Barney Frank.
As a business, Sidetrack has helped to lead the way in holding suppliers accountable to support LGBT communities through donations or sponsorships. In addition, it has received accolades for outstanding architecture and creative entertainment. Major figures in popular music have looked to Sidetrack for help in creating nationally released remixes. (Note: information listed has not been updated since the organization's induction).