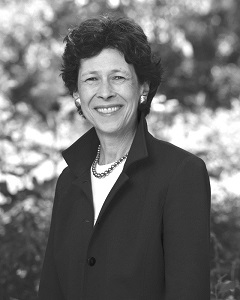 INDIVIDUAL | Inducted 2014
A native of Chicago, Debra Shore grew up in Dallas. After returning to Chicago in 1982, she became an active volunteer in local conservation initiatives, especially helping to restore the forest preserves along the North Branch of the Chicago River. Shore was the founding editor of Chicago Wilderness Magazine in 1997, a quarterly publication devoted to the rare nature of the Chicago region.
In 1996, she helped to found Friends of the Forest Preserves and began volunteering on political campaigns, helping to elect more progressive members to the Cook County Board of Commissioners. In 2003, she was selected to participate in the Illinois Women's Institute for Leadership (IWIL), which recruits and grooms Democratic women to run for office.
Shore ran for a position on the board of commissioners of the Metropolitan Water Reclamation District of Greater Chicago in 2006. She came in first in a field of nine candidates in the Democratic primary and began her first term in December 2006. With her election, she became the first openly gay nonjudicial candidate elected countywide in Cook County. During her first term, she was instrumental in the board's decision to provide health benefits for LGBT district employees and their domestic partners.
In 2012, Shore was re-elected, drawing more than 1 million votes in the general election. (Only Wisconsin's U.S. Senator Tammy Baldwin and Commissioner Shore have earned more than 1 million votes as openly lesbian candidates.) In 2013, she was recognized as the Public Official of the Year by the Water Environment Federation for her service on the reclamation district board.
In addition to her Cook County elected position, Shore currently chairs the board of the Gay & Lesbian Victory Institute, a national organization with a mission of achieving full equality for LGBT people by building, supporting, and advancing a diverse network of LGBT public leaders. She was a delegate to the Democratic National Convention in 2008 and 2012. She also serves on the boards of IWIL, the Great Lakes Protection Fund, and Congregation Sukkat Shalom.
Shore graduated in 1974 from Goucher College with a degree in philosophy and visual arts and a membership in Phi Beta Kappa. She earned master's degrees from the Johns Hopkins University and Chicago's Columbia College. She lives with her partner, Kathleen Gillespie, in Evanston. (Note: information listed has not been updated since the member's induction).