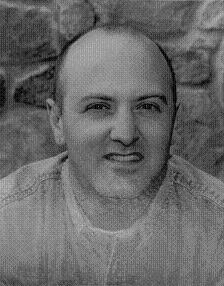 INDIVIDUAL | Inducted 1999
As both a literary figure and a music and literary critic Gregg Shapiro is one of the leading literary figures in Chicago's gay and lesbian community. Besides writing his own poetry and fiction, he has fostered awareness of Chicago's gay, lesbian, bisexual, and transgender literary excellence. His expertise in popular music is widely recognized. Locally, his work has been published in Outlines, Nightlines, En La Vida, BLACKlines, Gay Chicago Magazine, Chicago Free Press, boimagazine, and on ChicagoPride.com. His music commentaries were heard on LesBiGay Radio. His reporting on the sexual-minority arts scene is syndicated throughout North America, appearing in Baltimore, Boston, Washington, D.C., Florida, New York, West Hollywood, Philadelphia, Miami, Toronto, and Houston.
Shapiro has worked tirelessly to increase awareness of Chicago's gay, lesbian, bisexual, and transgender literary excellence, both within local sexual-minority communities and beyond them. He was a member of the New Town Writers and the SoPo Writers groups and has organized readings for them. He has supported Gerber/Hart Library through benefit readings and through donations of signed first editions and manuscripts. He has been a participating writer and performer in arts festivals, and adaptations of his works have been produced at Puszh Studios and Bailiwick Repertory theaters.
Though quiet and unassuming, he has received national recognition for his own poetry and fiction. His works were heralded on the cover of Christopher Street, the gay literary publication of the 1980s and early 1990s, and some of them have been featured on Dial-A-Poem Chicago. His works have appeared in more than 50 literary journals and in more than half a dozen anthologies.
Shapiro's expertise in popular music is widely recognized. He has been a judge at the Gay and Lesbian American Music Awards for the past three years. He has presented workshops and been on panels at the annual OutWrite conferences. In Chicago, he has taught workshops and judged student work at Columbia College and in the Art Institute of Chicago's Master of Fine Arts writing program. He has also organized group readings and panel discussions at local bookstores.
At every event in which he is involved, Shapiro strives to include representation from all sectors of Chicago's sexual-minority communities. He is one of Chicago's most honored openly gay writers and has long promoted recognition of the city's lesbian, gay, bisexual, and transgender literary and musical talent. (Please note: this information has not been updated since the time of the member's induction).