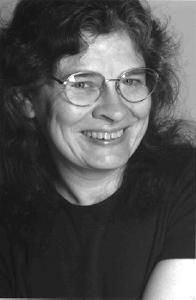 Photo by: Douglas Birkenheuer
INDIVIDUAL | Inducted 2007
Karen C. Sendziak began as a volunteer at Gerber/Hart Library in November 1987 and served in numerous capacities. She was the Gerber/Hart historian, and served on the board of directors while chairing the library's Archives Committee in 1995–96. She was the archives curator from 1999 to the present. Her volunteer work at Gerber/Hart is a testament to her dedication to preserving LGBT history and fostering LGBT culture. There are very few jobs at the library to which she has not lent her time, skill, and efforts over the past two decades. Whether it be fundraising efforts, publicity tasks, the coordination of volunteers, programming—whatever needs doing, she does.
Sendziak served as president of the library's board of directors, presiding over an era of increased financial stability and a renewed commitment to Gerber/Hart's educational mission through the staging of historical exhibitions and programs. Recently, the library has presented exhibitions on the 25th anniversary of the recognition of AIDS, the Gay Games, the LGBT and non-LGBT presses, and the editorial cartoons of the late Daniel Sotomayor.
Over the years, Sendziak has devoted an enormous amount of time to assisting researchers at all levels—high school students to tenured professors, journalists and videographers. In 2001, she assisted John Poling, a master's degree student, with his thesis on Mattachine Midwest. He later developed the thesis into an article, "Standing Up For Gay Rights," which in 2005 became the first LGBT-themed article ever published in Chicago History, the quarterly journal of the Chicago History Museum (CHM). A decade earlier, Sendziak curated an exhibition of Gerber/Hart materials at the CHM in conjunction with the "Long Road to Freedom" traveling exhibit mounted by The Advocate.
Chicago's LGBT history has been Sendziak's passion. She has researched the lives of Henry Gerber and Pearl Hart and published articles about both individuals. She assisted the City of Chicago's Department of Planning and Development in its bid to designate as a Chicago landmark the building at 1710 North Crilly Court, which was where Henry Gerber resided when he founded the Society for Human Rights in 1924. The City Council approved the landmark designation in 2001, and a plaque at that address was dedicated in June 2002. Sendziak was also instrumental in having a Chicago Tribute Marker of Distinction installed in 2002 in front of Pearl Hart's longtime home at 2821 North Pine Grove Avenue, noting Hart's many contributions to life in Chicago. (Note: information listed has not been updated since the member's induction).