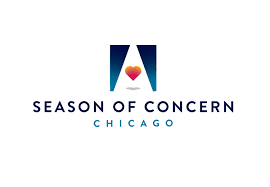 Friend of the Community | Inducted 2022
Season of Concern Chicago is the Chicago-area theatre community's fundraising and support organization. It raises money for and provides financial assistance to, people impacted by illness, injury, or health-related circumstances, and to Chicago-area HIV/AIDS service organizations.
Founded in 1987, Season of Concern began as a grassroots effort within Chicago's LGBT and theatre communities to respond to the AIDS crisis by providing financial assistance to Chicagoland theatre practitioners with HIV/AIDS-related illnesses. Initial funding came from benefit performances and post-performance audience solicitations, through which the organization that became Season of Concern began providing assistance to actors, administrators, designers, artisans, and backstage employees via the Biscotto-Miller Fund. Named in memory of stage manager Tom Biscotto and actor J. Pat Miller, two of the Chicago theatre community's first known outspoken victims of AIDS, the Biscotto/Miller Fund was created in 1985, following Miller's death in April of that year (Biscotto had died the previous October). In May of 1985, a benefit performance at Second City for the Biscotto/Miller Fund, Arts Against AIDS, featured selections from the plays "One," by Chicagoan Jeff Hagedorn (the first known "AIDS play" in American theatre), and the off-Broadway hit "The Normal Heart," for which playwright/activist Larry Kramer granted exclusive one-night performance rights gratis.
When Season of Concern was established two years later, it took over the administration of the Biscotto/Miller Fund, which continues to provide short-term emergency financial assistance to Chicago theatre practitioners with health-related needs. In addition to supporting individual theatre artists, Season of Concern has been making significant grants to Chicago HIV/AIDS service organizations for more than 30 years and has participated annually in Chicago's AIDS Walk/Run. Over the years, the organization has expanded its mission to meet the greater health needs of the Chicagoland theatre community, providing support to persons impacted by illness, injury, or circumstance that prevents them from working. In 2020-2021, Season of Concern teamed with the Entertainment Community Fund and the League of Chicago Theatres to aid to theatre workers dealing with the COVID pandemic.
Season of Concern has raised and distributed more than $3 million, providing much-needed relief to dozens of individuals and annual grants to local organizations that provide medications, housing, food, legal assistance, and mental health services to Chicago residents dealing with HIV/AIDS. In 2019, Season of Concern grants were awarded to 19 organizations, including Alexian Brothers Bonaventure House, Chicago House and Social Service Agency, the Chicago Women's AIDS Project (CWAP), Children's Place Association, Corazón Community Services, Heartland Alliance, Howard Brown Health Legal Council for Health Justice, the Night Ministry, Sinai Health System, Test Positive Aware Network (TPAN), and Vital Bridges.
Season of Concern relies on fundraising and donations to complete its mission. Much of this money has been raised via audience donation drives conducted in partnership with more than 30 local theatres (union and non-union), ranging from major companies (Goodman, Chicago Shakespeare, Steppenwolf, Marriott Lincolnshire, Drury Lane, Northlight Theatre, and Mercury Theater) to midsize and small off-Loop theatres (Northlight, Remy Bumppo, Court, Timeline, A Red Orchid, and Annoyance). Season of Concern is guided by a volunteer board of directors, to whom a managing director reports. The organization's first executive director was theatre director Larry Sloan, who was posthumously inducted into the Chicago LGBT Hall of Fame in 2005.
Season of Concern's Core Values are compassion, care, community, confidentiality, and integrity. Over the years Season of Concern has expanded its mission to assist any Chicago theatre practitioner in need of financial assistance due to any illness, injury, or circumstance. But its ties to the LGBT community remain as strong as ever, ensuring that no theatre worker in our community need face catastrophic physical or mental health issues alone.