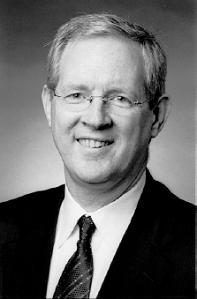 INDIVIDUAL | Inducted 2005 [Posthumous]
The life work of Mike Savage covered social work executive and religious activist, leading programs that served such groups as the homeless, the addicted, low-income persons with HIV/AIDS, immigrants, and the medically needy as well as leading Dignity, the gay and lesbian Roman Catholic organization.
Savage was a graduate of St. Louis University and began his career of service working on behalf of lower-income neighborhoods in St. Louis and of migrant farm workers throughout the country. His activities included serving as chief operating officer of Travelers and Immigrants Aid in Chicago (now Heartland Alliance), executive director of Fenway Community Health Center in Boston and of United Neighborhood Organization of Chicago (UNO) on the Southwest Side, and since 1994 as chief executive officer of Access Community Health Network, which expanded from nine facilities to become a 41-clinic organization serving 160,000 medically underserved patients in the Chicago area, including many under-insured sexual-minority clients and persons with HIV/AIDS.
Savage was deeply involved in many sectors of the LGBT (lesbian, gay, bisexual, and transgender) communities and many of its organizations, including Dignity USA, the first AIDS Walk, Horizons Community Services, and Equality Illinois.
He was a leader in fighting for oppressed people's rights at United Power for Action and Justice and for persons in recovery in many settings, such as the National Association of Community Health Centers' HIV/Substance Abuse Committee. He was a tireless advocate for providing residential and outpatient services for LGBT persons with addictions.
At Heartland Alliance, Savage helped to expand services to homeless and lowincome persons living with HIV/AIDS. He also worked to ensure that LGBT immigrants had access to immigration services and that LGBT survivors of domestic violence had access to counseling support.
He was instrumental in persuading Illinois lawmakers to expand the KidCare child health insurance program to cover parents. He also took part in Stand Against Cancer, which helped to organize a campaign to enable poor Illinois women to obtain cervical cancer screening. The program screened more than 6,000 women in its first six months.
Born in 1952 in Fairfield, Illinois, Clarence Michael Savage died on June 24, 2004, in a whitewater rafting accident while in Alaska attending a conference on behalf of Access. His posthumous award was accepted by his partner in life, Andrew Swan.