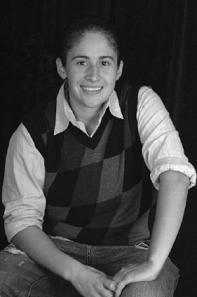 INDIVIDUAL | Inducted 2009
Zaida Sanabia was an activist before she knew what the word meant. At the age of 14, she contacted Amigas Latinas, challenging the adults there to address the gap in services for young Latinas who, like herself, were facing issues connected with being gay. A year later, while participating in Horizons Community Services' youth program, Sanabia became involved with Beyond Media Education and began documenting the struggles of starting a Gay-Straight Alliance, or GSA, at her school, Carl Schurz High School, on Chicago's Northwest Side.
Sanabia's video did not turn out quite as planned; it became a documentary of her struggle to complete the film. She had captured incriminating testimony of homophobia on video, and her principal demanded that she cease filming and turn over all existing footage. Despite harassment, threats, and being suspended from Carl Schurz High at the age of 17, she eventually completed her film, "A Fish Almost Eaten by a Shark", and went on to graduate in 2003. The film has since been shown in several festivals and schools across the country, teaching students and educators about the challenges faced by queer youth and the need for GSAs. It won prizes at the Independent Film & Video Chicago Festival and the Chicago Youth Media Festival. Although initially shy, Sanabia became a dynamic speaker whose openness, humor, and courage have moved audiences of all ages and backgrounds. She had found her voice.
In 2004, Amigas Latinas recognized Sanabia for her work, awarding her an Aixa Díaz Latina Youth Scholarship. Sanabia went on to work with Amigas Latinas and was instrumental in creating the first queer Latina youth group in Chicago, named "Amiguitas" ("Little Amigas"). The group meets monthly, providing safe space, education, and access to resources; it is open to all ages, races, and genders. She summed up the importance of the group and her commitment, saying, "When we're so young, we're so vulnerable, and one way to help is to have a space to just say, 'I'm gay!' So, no matter what I do in life, with my career, whatever title I may have, I will always be involved with my community. I do the work unconditionally."
Sanabia has also traveled throughout Illinois, donating her time, skills, and abilities to meet with youth and adults in support of GSA development across the state. Under the auspices of the Coalition for Education on Sexual Orientation (now the Illinois Safe Schools Alliance), her work has contributed to the founding of more than 20 GSAs in rural parts of the state. As part of a Beyond Media team, she played a significant role in producing the film Can LGBTQ + School = Safe?, which documents the LGBTQ safe-schools movement and provides young people and adults with a guide for creating change in their own schools. (Note: information listed has not been updated since the member's induction).