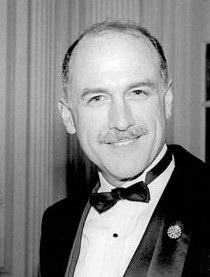 Photo courtesy Windy City Media Group
INDIVIDUAL | Inducted 1993 [Now Deceased]
As an openly gay physician he co-founded the first comprehensive HIV/AIDS clinic at Cook County Hospital. He was active in local politics, running as an openly gay candidate for 44th Ward alderman and founding IMPACT, a gay and lesbian political action committee. Ron Sable, M.D. has been on the forefront of health and civil-rights activism in Chicago since the mid-1970s, when he first began working as an openly gay physician at Cook County Hospital. Sable was also a medic for 13 months in Vietnam. Born in 1945, he died in 1993 of AIDS complications.
As a physician coping with the area's first cases of AIDS, Sable and Dr. Renslow Sherer founded the Sable/Sherer AIDS Clinic at County [now the Core Center.] His AIDS activism has extended beyond County Hospital — Sable has been active in city, state and federal AIDS issues; he helped to found the AIDS Foundation of Chicago to coordinate the provision of services for people living with AIDS, as well as to raise funds for those services. His role as a physician is just a minor part of his many contributions to Chicago's gay and lesbian community and the community-at-large.
His political aspirations were what made Sable a gay and lesbian household name. As an openly gay candidate for the Chicago City Council in 1987, he came within a few hundred votes of defeating incumbent 44th Ward Alderman Bernard Hansen. In a repeat of the 1987 race, Sable lost by a wide margin to Hansen [who had considerably increased his gay community efforts] in 1991. Sable was named as an alternate delegate to the 1988 Democratic Party Convention. Even though Sable lost both races, his campaigns themselves were important catalysts for community activism. In particular, his 1987 campaign drew in many new activists, who went on to work on the March on Washington. Sable and his supporters were also instrumental in the founding of IMPACT, Chicago's first gay and lesbian political action committee.
Sable was also active in mainstream progressive politics, and he was a strong advocate of national healthcare. Among his other organizational involvements and activities have been: Howard Brown Memorial Clinic [volunteer physician]; Mayor Harold Washington's Committee on Gay/Lesbian Issues [founding member]; Lesbian/Gay Voter Impact [founder]; Chicago Community Program for Clinical Research on AIDS [founder]; Horizons Community Services, Gerber Hart Library and Archives, Gray Pride, and Illinois Gay and Lesbian Task Force [member/contributor]; the Mayor's Veterans Commission [member]; Illinois Public Action Board [member]; The Crossroads Fund [member, Board of Directors]; Chicago Sexual Assault Services Network [member]; and Physicians for National Health Program [National Coordinator].
His honors include the Glynn Sudbery Award of the Independent Voters of Illinois and Independent Precinct Organization; Mattachine Midwest's Paul Goldman Award; and Health PAC's Health Activist Award. He was named Man of the Year by the Gay and Lesbian Physicians of Chicago and the Gay Chicago Magazine Awards. He was also honored by the AIDS Foundation of Chicago, as well as by Cook County Hospital, for his outstanding work during the 1980s.
In 1993, Sable announced, in a letter he sent to hundreds of friends and colleagues, that he was HIV-positive. He cut back most of his organizational activities, and spent more time now with friends and with Joe Narvaez, his partner of 12 years.