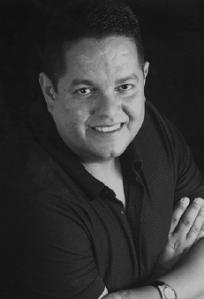 INDIVIDUAL | Inducted 2004
Julio Rodriguez has been active in Chicago's LGBT community for 17 years and has been a tireless advocate for Latinos and Latinas among LGBT people and for LGBT people among Latinos and Latinas. Rodriguez, who is of Puerto Rican descent, was born in Chicago and grew up in the Lakeview neighborhood. He has worked and volunteered with numerous local and national organizations, such as ALMA (Association of Latin Men for Action); Horizons Community Services; the Midwest Hispanic AIDS Coalition; the AIDS Foundation of Chicago; LLEGÓ, the National Latino/a Lesbian, Gay, Bisexual and Transgender Organization; and Center on Halsted. As a resident of Washington, D.C., in the early 1990s, Rodriguez was active with ENLACE, a group for LGBT Latinos and Latinas, and served on its board.
Rodriguez has supported numerous other individuals and organizations with his time, resources, and commitment. Professionally, he works for the Illinois Department of Commerce and Economic Opportunity and previously held a position with the Illinois Department of Human Services.
He was one of the first Latino members of the Chicago Commission on Human Relations' Advisory Council on Gay and Lesbian (now Lesbian, Gay, Bisexual and Transgender) Issues. In 1989, he cofounded ALMA, the city's first organization for gay and bisexual Latinos, and he served as its president beginning in 1999. He participated in the first openly gay contingent of Latinos and Latinas to march in both the Puerto Rican Parade and the Mexican Independence Day Parade and has taken part in subsequent years. He served on the advisory board for the first Midwest Conference on Latinos and HIV/AIDS, organized in 1988 by the Midwest Hispanic AIDS Coalition. He served on the national board of LLEGÓ from 1990 to 1999, helping to represent Midwestern LGBT Latinos and Latinas. And he volunteered at Horizons Community Services from 1992 to 2000, where he became volunteer supervisor for group services and served on the group's Community Leadership Council.
In 1996, Rodriguez was one of the planners of Chicago's monthly En La Vida publication. He helped to bring LLEGÓ's "El Sexto Encuentro" conference to Chicago in 1998, the first time an international Latino and Latina LGBT conference was held here. From 2001 to 2003, he chaired the AIDS Foundation of Chicago board's grant-making committee. In 2000 he became a founding member of Center on Halsted's outreach committee and now serves on the Center board and its nominating committee. Since 1997, he has belonged to the Illinois Association for Hispanic State Employees and has served on its conference planning committee. Rodriguez has also received awards for his work on youth substance abuse and for his philanthropic work. (Please note: this information has not been updated since the time of the member's induction).