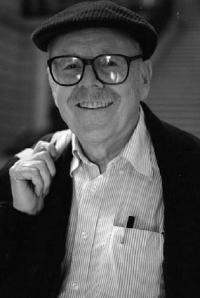 Photo by: Danny Nicoletta
INDIVIDUAL | Inducted 2009 [Now Deceased]
The journalist, activist, and award-winning novelist Frank M. Robinson, was a journalist, novelist, and award-winning science fiction writer, who has made significant contributions to LGBT communities in Chicago and nationally. As a member of the Chicago Gay Alliance in the early 1970s, Robinson edited and produced the first gay tabloid-format newspaper in the city's history, Chicago Gay Pride, which was published in June 1971 to promote that year's Pride Parade and events.
The longtime Chicago activist and Hall of Fame member Marie Kuda recalled that the idea to publish "was entirely Frank's; it was his money that fronted it, and he did all the prep work and layout including manually typing the entire issue." Because Robinson was not publicly "out" at the time, his byline did not appear in the paper. However, as Kuda put it, "The 'Editorial,' while unsigned and suggesting 'a committee,' was Frank's and you can recognize his internal 'signature' in literary allusions to everyone from Shakespeare to Pogo."
The following year, Robinson created The Paper, a second tabloid-format newspaper that featured coverage of the Pride Parade and rally, the Gay Book Awards at the American Library Association's convention, testimony by Chicago activists at the Democratic National Convention platform hearings, and other local cultural, social, and political activities. The significance of both publications in solidifying the city's nascent LGBT community was enormous. "By publicizing events and documenting a history," Kuda said, they "gave a face to the growing community that was comparable to establishment media." Robinson's pioneering efforts paved the way for other LGBT publications in Chicago.
After moving to San Francisco, where he currently resides, Robinson wrote speeches for the campaigns that culminated in Harvey Milk's historic 1977 election to the San Francisco Board of Supervisors. In a posthumously played tape-recorded statement, Milk named Robinson as one of his political heirs. Robinson had drafted Milk's famous "Hope Speech," featured in the 2008 biographical film "Milk". In the film, Robinson had a cameo role portraying himself.
Born in Chicago in 1926 and raised in the city, Robinson attended Beloit College and earned a master's degree in journalism at Northwestern University. He served two tours of duty in the U.S. Navy as a radar technician during World War II and the Korean War.
Robinson was also a prominent novelist and historian of popular culture, with many books, screenplays, and illustrated coffee-table volumes to his credit. Several of his novels have been adapted for television and for feature films, including 1974's Hollywood blockbuster "The Towering Inferno", based partly on "The Glass Inferno", a novel of which Robinson and Thomas M. Scortia were co-authors. His novel "The Dark Beyond the Stars" received the 1991 Lambda Literary Award for Gay Men's Science Fiction and Fantasy from the Lambda Literary Foundation. Mr. Robinson died in San Francisco in 2014.