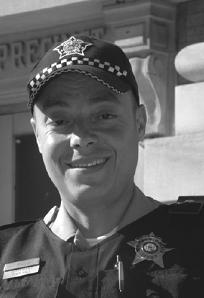 INDIVIDUAL | Inducted 2010
Chicago Police Officer Jose R. Rios is assigned to the 23rd District as its liaison between the Chicago Police Department and Chicago's LGBT communities. His tenure since 2001 has had an enormous impact and improved the relationship between LGBT communities and police in the city. His work has contributed to breaking down barriers and prejudices that historically have compromised access to police services for LGBT individuals and groups in Chicago.
Rios chairs the district's LGBT advisory group and is a member of the board of directors of the Association of Latin Men for Action. He served as first vice president of Chicago's Lesbian and Gay Police Association/Gay Officers Action League. For his services, in 2005 he received a Chicago Commission on Human Relations award, and in 2006 he received a Trailblazer Award from Bailiwick Repertory.
As liaison to LGBT community, Rios responds to victims of LGBT hate crimes both within the 23rd District and throughout the city. He provides individual assistance in filing complaints, makes referrals to other community service agencies, and provides support and encouragement to crime victims.
Rios has worked tirelessly with other community agencies to develop programs that range from Operation Play Safe within the LGBT community to LGBT domestic violence training for police officers. He participates in LGBT sensitivity training programs for new recruits at the Chicago Police Academy. He assisted in developing—and starred in—two diversity training videos that the Chicago Police Department uses to familiarize personnel with LGBT issues. He has also provided specialized awareness training for members of Chicago's deaf LGBT community.
A native Chicagoan, Rios received his bachelor's degree in law enforcement management from Calumet College of St. Joseph. He is fluent in Spanish, Portuguese, English, and ASL (American Sign Language for the Deaf).
As an openly gay police officer, Jose Rios serves as a role model for other professionals, both within the law enforcement community and the greater civilian population. (Note: information listed has not been updated since the member's induction).