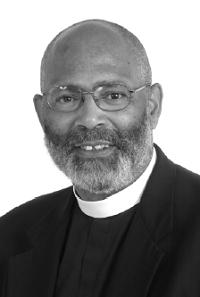 INDIVIDUAL | Inducted 2005
From 1991 to the present, Father Juan Reed has been vicar of St. Martin's Episcopal Church, at 5710 West Midway Park on Chicago's West Side. When he arrived, St. Martin's was coping with shifting demographics because of white flight, with threats of urban blight, with a neglected physical plant, with a liturgy that had not been revised, and with dissension when changes were proposed. According to its current mission statement, St. Martin's is committed to dismantling racism and working for social justice; welcomes those who are unchurched or whose needs and aspirations are unfulfilled by traditional churches; welcomes and affirms African American LGBT (lesbian, gay, bisexual, and transgender) people and the unique contributions they bring to the church; and welcomes and affirms multiple types of families.
Social worker and Episcopal priest, he leads a parish (St. Martin's) that openly welcomes LGBT people, provides pastoral support to men living with HIV and AIDS, and is example, living as an openly gay African American clergyman. In contrast to members of the clergy who cite religious books as the basis for anti-gay teachings, Reed has been a visible, openly gay, and committed Christian minister within the West Side's African American population. Reed has said, "At St. Martin's we break the tradition open, not destroy it. To be Anglican does not mean to be Anglo. Our Anglicanism does not have to be expressed in a Eurocentric way. At St. Martin's it's done in a very black way. . . . What we decided and discerned was that God is calling us to do what those other black churches are not doing, like teaching ministries to address ex-offenders and persons with HIV and AIDS, tackling African American lesbian, gay, bisexual, and transgender issues, linking issues of social justice to spiritual transformation." St. Martin's has been called the last survivor of what were once 10 Episcopal churches serving the West Side.
Reed received a master's degree in social work from Loyola University Chicago's School of Social Work in 1981, later a master's degree in divinity from Seabury-Western Theological Seminary, and in 2004 a doctor's degree in ministry from the Catholic Theological Union. From 1978 to 1980 he was a psychiatric technician at Illinois Masonic Medical Center in Chicago. He was a clinical social worker from 1981 to 1984 for the Chicago Child Care Society and from 1984 to 1989 for Lawrence Hall Youth Services. In 1989 and 1990 he served as diagnostic treatment program director for Episcopal Charities and Community Services. He also conducted a private clinical social work practice from 1983 to 1990. He was ordained to the priesthood in 1991.
Since arriving at St. Martin's, he has made the church into a place where progressive GLBT persons can share worship with their heterosexual fellow Christians. He invites the congregation through his sermons and teaching to participate in a theology of liberation.
Reed's stance as an out and affirming African American Episcopal priest is a brave act in a community where the church has been viewed by many as an "open closet." He has been in the forefront of pastoral AIDS care, helping African American gay and bisexual men with HIV and AIDS to make a link between themselves and the God in which they believe—a link that often goes unfostered for same-gender-loving people.