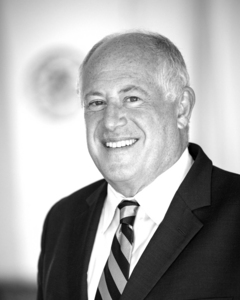 FRIEND OF THE COMMUNITY | Inducted 2016
Patrick Quinn, Governor of Illinois from 2009-2015, is a longtime supporter of the LGBT community whose contributions included decisive support for anti-bullying, HIV funding, non-discriminatory policies, and signing legislation to make Illinois the 16th state to provide full marriage equality.
Patrick Quinn, Jr. served as the 41st Governor of Illinois from 2009 to 2015. In January 2011 he signed legislation that legalized civil unions for both same-sex and opposite-sex couples in Illinois. In November 2013, on a desk used by Abraham Lincoln, Governor Quinn signed the Illinois Religious Freedom and Marriage Fairness Act, making Illinois the 16th state to legalize same-sex marriage.
Born in Hinsdale, Illinois, in 1948, Quinn graduated from Georgetown University and Northwestern University School of Law. He worked as a tax attorney, serving later as an aide to former Illinois Governor Daniel Walker. He held positions in city and county government before serving as Illinois Treasurer from 1991 to 1995. He was elected as Lieutenant Governor in 2002 and reelected in 2006. In 2009, he became the 41st Governor of Illinois and in 2010, Pat Quinn was elected to a full term as Illinois governor, along with running mate, Lieutenant Governor Sheila J. Simon.
Quinn's support of the LGBT community did not end with his signing of marriage equality legislation. Throughout his career, Pat Quinn attended numerous LGBT community events, and supported many LGBT causes. Quinn also worked to ensure that healthcare providers under the Affordable Care Act do not discriminate based on gender identity. In addition, he supported strict anti-bullying legislation and the creation of a School Bullying Prevention Task Force.
During Quinn's time as governor, the state's official tourism website launched a "Pride Illinois" section for LGBT travelers. Governor Quinn also asked the Illinois Department of Revenue to allow couples in civil unions to file joint state tax returns.
Pat Quinn Jr.'s support of the LGBT community reflects a deep commitment to equality and non-discrimination, a position that has been greatly evidenced by his record on the issues.