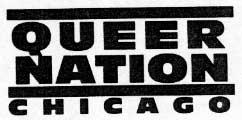 INDIVIDUAL | Inducted 1995
As a direct-action group supporting those who are bisexual, gay, lesbian, or transgendered (collectively, queer), Queer Nation Chicago developed test cases under nondiscrimination ordinances, mounted public protests and commemorations, and sponsored an annual antiviolence march.The group viewed itself as a direct-action group that supported the struggle for people who are bisexual, gay, lesbian, or transgendered (collectively, queers). It held its first meeting on September 26, 1990, after several people, including Joan Jett Blakk, decided to increase direct-action politics in Chicago. The group worked toward equality, visibility, identity, freedom, and quality of life for queers. It also addresses issues of racism, sexism, inclusion, and reproductive freedom and choice.
Queer Nation Chicago successfully brought complaints of sexual-orientation discrimination against well-known Near North Side bars, which were among the first cases of sexual-orientation discrimination brought to the Chicago Commission on Human Relations. The cases' success sent a clear message that homophobic discrimination would not be tolerated and that Chicagoans would exercise their civil rights.
Striving to keep former Cook County Board President Richard J. Phelan accountable for what it called a campaign promise, Queer Nation Chicago hounded him and the board for more than two years to pass the Cook County Human Rights Ordinance. The ordinance, supported by Phelan, Queer Nation, and a wide variety of other proponents, affects at least six million people and remains one of the most comprehensive and thoughtful such measures in the country.
Using visibility actions, Queer Nation/Chicago regularly gave notice to businesses and governments around the country that homophobic treatment would be met with a strong show of unity and direct response. The group worked in opposition to Colorado's Amendment 2, Cincinnati's Issue 3, Cracker Barrel restaurants, and other businesses.
Each autumn, Queer Nation/Chicago was the primary organizer of an anti-violence march, which focused attention on issues of hate crime, self-defense, police misconduct, violence against persons with AIDS, domestic violence, and discrimination. Queer Nation/Chicago has challenged violent and damaging actions ranging from inaccurate media coverage to anti-queer organizing.
From helping to organize Chicago's first Day Without Art, to attending every World Action Day (sponsored by ACT-UP Chicago), to pressing for increases in the city AIDS budget and organizing the Coalition for Positive Sexuality, Queer Nation/Chicago members took an active and visible role in Chicago's fight against AIDS.
Queer Nation/Chicago's efforts included community education regarding discriminatory practices and their remedies, as well as youth advocacy and alliances with the Women's Action Coalition and the Emergency Clinic Defense Coalition to deal with issues of sexism and women-specific issues. Additional efforts targeting racism and fostering community education have included picketing a gay male theater in response to an ad perceived as racist, holding National Coming Out Day actions, and embracing the inclusion of bisexual and transgendered persons in the queer community.
Queer Nation/Chicago worked tirelessly in behalf of queers. As the group has so powerfully shown, "PRIDE + ACTION = RESULTS." (Please note: this information has not been updated since the time of the organization's induction).