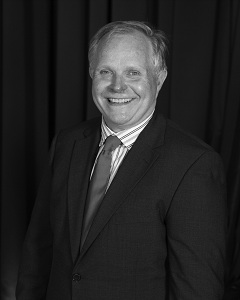 Photo by: Rick Aguilar Studios
INDIVIDUAL | Inducted 2012
Bill Pry has made numerous long-term contributions to Chicago's lesbian, gay, bisexual, transgender, and queer population as a business owner, a philanthropist, and an advocate. Over the past quarter of a century his generosity, dedication, and hard work have had an impact on countless events and nearly every LGBTQ organization in the city. He is an owner of BBJ Table Fashions and has donated tens of thousands of dollars' worth of services to enhance local organizations' programs and events. He has also been a vocal advocate for increased services to help LGBTQ youth realize their potential.
Pry's business acumen, combined with a design background and an eye for color and fabric, have helped navigate his company, BBJ Table Fashions, to great success. Along with business partners Bonnie Dannen, Doron Levy, and Judy Goldberg, Pry has built a successful civic-minded business that is inclusive of all people.
Under Pry's leadership, BBJ has become more than a successful business. It has proven that commercial success and support for equality and fairness are not mutually exclusive or contradictory goals. Today Pry and his company remain one of LGBTQ Chicagoans' most consistent and recognizable friends.
Over the years, BBJ has saved organizations tens of thousands of dollars by contributing in-kind donations to programs and events for the Center on Halsted, the AIDS Foundation of Chicago, Lambda Legal, Chicago House, Test Positive Aware Network, the Chicago Area Gay and Lesbian Chamber of Commerce, and many other causes. It would be difficult to attend a community gala or special occasion and not find the BBJ staff, doing what they can to ensure that the event is a success for the organization as well as for the community.
In addition to his generosity, Pry has also been a prominent voice in LGBTQ advocacy. He has frequently spoken out on our need to support one another and speaks most passionately about LGBTQ youth. Recently at the Center on Halsted, Pry accepted an award from BMO Harris Bank for his work in the LGBTQ community. In his acceptance speech, Pry did not discuss his own success or his own contributions. Instead, he challenged all those present to focus on LGBTQ teenagers and youth.
He asked that others strive to provide support and the necessary access to education in order to help LGBTQ youth discover who they are and learn the skills they need to succeed. He added that by contributing to the well-being of LGBTQ youth, we are contributing to the future and betterment of our whole community. (Note: information listed has not been updated since the member's induction).