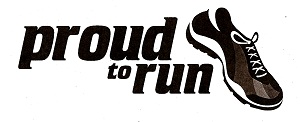 ORGANIZATION | Inducted 2012
For the 30 years Proud to Run, Chicago, and its precursor entities has held races, walks, and rallies during Pride Week each year that it has conducted as a celebration and as a way of providing financial support to community organizations. The annual events have grown to more than 1,400 participants and, in the past three decades, have raised more than $300,000 for local beneficiaries.
The first Proud to Run race took place on June 20, 1982. Peg Grey of the Gay Athletic Association, with Rob Williams and Jim White, organized the first 10K run and 1-mile walk. Though only 40 runners and walkers participated, they all wanted to celebrate Pride Week in a way that was meaningful to them and give back to the community financially. In part, the success of the first Proud to Run in 1982 led some participants that year to form the Chicago chapter of Frontrunners, which as Frontrunners/Frontwalkers Chicago was inducted into the Hall of Fame in 1995. In 1991 Frontrunners/Frontwalkers took over managing the event.
Now in its 31st year, Proud to Run has grown to more than 1,400 participants. The 10K race and the 5K race and walk that celebrate LGBT pride take place along Chicago's lakefront and are a USA Track and Field certified event as well as a Chicago Area Runners Association registered race. Its success through the years has made Proud to Run a popular, highly visible event and has become recognized as one of the most productive and enjoyable traditions of the city's annual Pride Month.
Proud to Run has a volunteer board that works throughout the year, planning the race course, securing sponsors and volunteers for race day, and managing other details to ensure a successful event. Pre-race events include fundraisers in various LGBT venues. After a race, a rally is held where awards are presented along with entertainment by LGBT groups. The annual grand marshal of the Pride Parade is invited to Proud to Run to cheer participants and present awards. It also maintains a website (www.proudtorun.org) that showcases upcoming Proud to Run events and past races. The group can also be found on Facebook and Twitter.
In the past 30 years, Proud to Run has raised more than $300,000 for local beneficiary organizations, which have included the Lesbian Community Cancer Project, the AIDS Alternative Health Project, Horizons Community Services, Open Hand Chicago, the Test Positive Aware Network (TPAN), Pride Youth, Gerber/Hart Library and Archives, and the Gay, Lesbian & Straight Education Network (GLSEN). All of the money donated goes directly to the beneficiaries and is vital to their support. (Note: information listed has not been updated since the organization's induction).