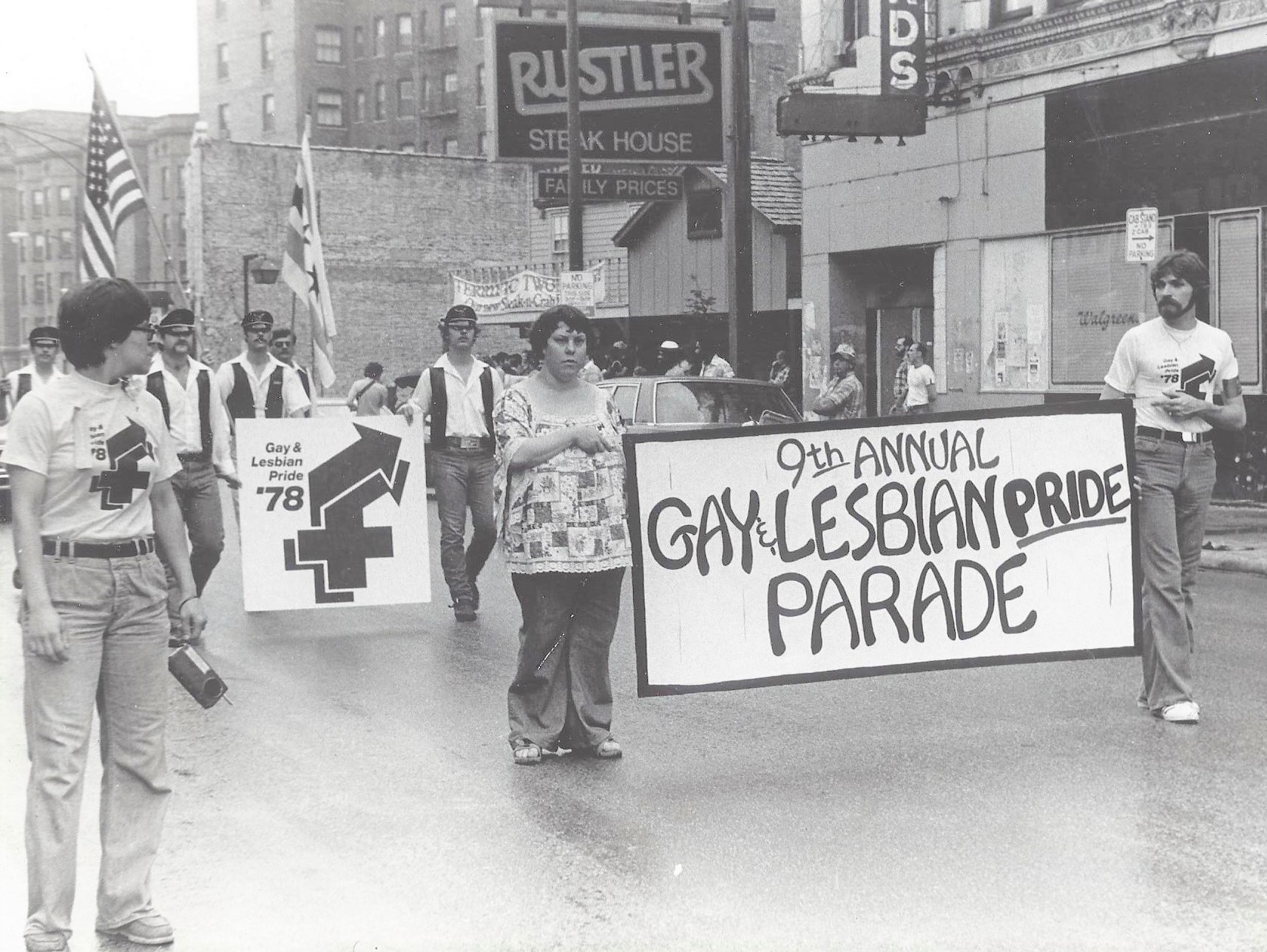 Organization | Inducted 2021
The first Chicago Gay Rights March was held on Saturday, June 27, 1970, with 100 to 150 people from Washington Park (Bughouse Square) on Chicago's Near North Side to the Civic Center (now Richard J. Daley Plaza) in the central Loop. The march was organized by the Chicago Gay Liberation and was the first event to be held to recognize the first anniversary of the Stonewall Rebellion the year before. (New York and San Francisco held their observance on Sunday, June 28, 1970). In its second year, the event became a parade under the auspices of the Chicago Gay Alliance. When those two organizations dissipated, Rich Pfeiffer stepped up and formed PRIDEChicago to take over management and planning of the annual Pride Parade, and did so for 47 years, until Rich Pfeiffer's death in 2019. PrideChicago, headed up by Rich Pfeiffer and Tim Frye, was the glue that held it together
Over the years, the number of registered entries, participants, and spectators has steadily increased as more people became comfortable with being out and proud. After Mayor Jane Byrne lost her reelection bid, she decided to thank the LGBT community for supporting her. When word got out that she was going to be in the parade that year, elected officials began contacting PRIDEChicago in large numbers to register for the parade, continuing a tradition that lasts through today. PRIDEChicago has always strived to keep the occasion diverse and inclusive.
One of the largest contingencies in the parade is the Chicago Council of Welcoming Churches. The churches identify separately but march under one banner. Jewish organizations and synagogues from Chicago and suburbs also march together as one entry. Over 95% of the corporate entries in the Pride Parade are represented by the company's LGBT+ Business Resource Group or Employee Resource Group.
A recent entry that joined the parade is the Chicago Alliance of Museums with Pride (virtually all the major museums in the city). In addition, PRIDEChicago has continued to invite pride groups from a growing number of suburbs to participate in the Chicago Pride Parade.
Over the years, PRIDEChicago has hosted numerous grand marshals from the world of sports, music, film, and TV, including Eric Alva, Orlando Cruz, Lea Delaria, Alexandra Billings, Ty Herndon Greg Louganis, Chuck Panozzo, Chely Wright, and many others. Chicago major sports teams have also appeared in the parade, including the Chicago Blackhawks, Chicago Cubs, Chicago Fire, Chicago Bulls, and Chicago White Sox.
By 2015, the year the U.S. Supreme Court declared marriage equality throughout the country, an estimated 1 million people watched the Chicago Pride Parade. The crowd estimates (provided by the City of Chicago) have remained at 1,000,000 since 2015. The crowd attending and marching in the parade has remained at or over one million people. PRIDEChicago has ushered the Chicago LGBT Pride Parade through six decades. After Rich Pfeiffer passed Tim Frye took over management of PRIDE Chicago which had to cancel the 2020 and 2021 parades due to the pandemic.