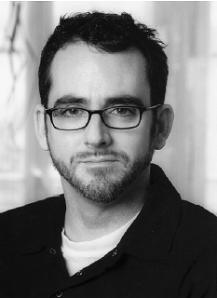 Photo by: Russell McGonagle
INDIVIDUAL | Inducted 2005
As a writer, activist, openly HIV-positive gay man, and now a policy leader, Jim Pickett has played a role in the Chicago LGBT (lesbian, gay, bisexual, and transgender) community that spans more than a decade.
In 1993, his career started at Babble (later Gab), a pioneering community weekly magazine that turned a satirical eye on the city's gay nightlife and political scene.
An overarching theme of Pickett's activist career has been empowering individuals in the LGBT and the HIV/AIDS communities to take responsibility for their health. After five years consulting with the Chicago Department of Public Health (CDPH), he is now director of public policy at the AIDS Foundation of Chicago. He led a groundbreaking project at CDPH titled "Faces of AIDS: Living in the Heartland." The project put a human face on the HIV epidemic and helped people with HIV/AIDS in the Midwest to speak out against discrimination and fear.
He also led the city's Syphilis Elimination Task Force, a social marketing campaign launched in 2001 and aimed at encouraging gay men to be tested routinely for syphilis. Reported syphilis infections later dropped after an alarming rise in 2000. One of his ongoing causes has been activism on microbicide research. He has raised awareness in Chicago and nationally about the need for a new tool for women and gay men to protect themselves against HIV transmission.
Pickett led 150 activists to Springfield, and one activist from each of the state's 19 congressional districts to Washington, D.C., in order to lobby for measures against HIV/AIDS. He has written articles for several local and national publications on topics related to civil rights, HIV/AIDS programs and policy, LGBT health, and progressive politics. He also edited a national listserv that reached thousands of subscribers internationally.
Beginning in 2002, Pickett and colleagues in the Chicago Task Force on LGBT Substance Use and Abuse wrote "Abuse?", a road map for Chicago toward reducing harm from substance abuse among LGBT persons, which was published by city government in early 2005. He also spearheaded a social marketing campaign against crystal methamphetamine. (Note: information listed is taken from induction information and has not been updated).