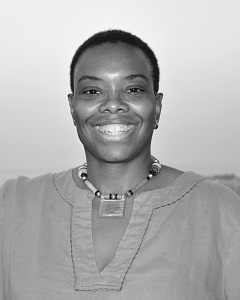 INDIVIDUAL | Inducted 2014
Some 25 years ago when few similar options were available for black lesbians on Chicago's South Side, Lisa Marie Pickens opened her home and created the African American Womyn's Alliance, a support group for black lesbian, bisexual, and questioning women that included monthly meetings, group outings, special events, and a monthly newsletter.
In 1993, Pickens served as a key organizer in the efforts of the Ad Hoc Committee of Proud Black Lesbians and Gays (also a Hall of Fame inductee) to openly march in the 64th annual Bud Billiken Parade sponsored by the Chicago Defender Charities. Stirred by this successful engagement with their black South Side community, Pickens, along with others, worked through a community-based planning process to create a broader support network for the South Side's black LGBTQ community that culminated in the establishment of Affinity Community Services, likewise a Hall of Fame inductee.
Pickens is a co-founder and board president emeritus of Affinity, an almost 20-year-old social-justice organization that works with, and on behalf of, black LGBTQ Chicagoans, queer youth, and allies. Pickens's leadership helped Affinity to fully embrace its multiple communities and support their engagement with policymakers about the issues that directly affect their lives.
For more than 15 years, Pickens also served on the board of the Crossroads Fund, co-chairing it for five years until 2012. The fund raises money to support Chicago organizations engaged in social-change and social-justice work.
At the Crossroads Fund, Pickens currently co-chairs the Big Change Endowment Committee and chairs the Evaluation Tool Working Group, tasked to develop a means of planning and assessing grantees' social-justice impact. The tool, called the Social Movement Developmental Model, is based on Pickens's previous consulting work evaluating social justice organizing efforts and was co-created by her and Crossroads.
As an open black lesbian in her own South Side neighborhood, Pickens has served since 1998 as the Chicago Alternative Policing Strategy (CAPS) co-facilitator for Beat 411. For more than six years, she was a member of the Chicago Commission on Human Relations' former Advisory Council on Gay and Lesbian Issues. She has also chaired the 8th Ward Housing Task Force in conjunction with the ward's alderman. (Note: information listed has not been updated since the member's induction).