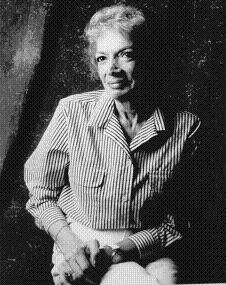 FRIEND OF THE COMMUNITY | Inducted 1999 [Now Deceased]
Adrene Perom was the non-gay owner of a North Side gay bar, Big Red's, that played an important part during the 1970s and 1980s in nurturing Chicago community institutions at early stages of their development. She sponsored sports teams that were supportive social milieux for hundreds, held countless fund-raisers, collaborated with other business owners, and helped to start and supported Chicago House.
The patio of Big Red's saw early development of the concept of Chicago House, which later helped to meet the needs of Chicagoans living with AIDS. Throughout the rest of her business career, Perom continued as a Chicago House supporter.
Perom's bar was also the scene of countless fundraisers for local organizations, including many pie tosses held to collect money for the Frank M. Rodde III Memorial Building Fund. In fact, the gay fundraising pie toss in Chicago originated at Big Red's. Perom was always ready with a prize donation or an ad purchase to help a group raise funds. She believed that a business exists to make money but that it is also appropriate to give some of the money back to the community being served.
While operating her bar, Perom enjoyed good relations with proprietors of other gay and lesbian establishments. She was active in the Metropolitan Business Association and in the Tavern Guild of Chicago, two local gay and lesbian groups that existed in the 1980s. Perom recognized that a good business climate for one is a good climate for all.
With her ever-cheerful demeanor, business sense, and generosity, Perom was an invaluable friend of gay and lesbian Chicagoans in the course of three decades. She was always quick to support her gay and lesbian colleagues and friends, unafraid to speak out in their behalf to others. In the mid-1990s, Perom retired from some 20 years of operating her own bar. Born in 1935, she died in 2000.